Discover more from Idée Fixe by Toni Cowan-Brown
A newsletter for the curious minds, and your weekly in-depth dive into the ideas that dominate our minds - both the delusional and the pedestrian. Each week I share insights on the ideas in tech, politics, pop culture and F1 that matter.
Over 1,000 subscribers
Idée Fixe Interlude #14
The need for accurate representation can be seen in all industries.
Thank you for being here. You are receiving this email because you subscribed to Idée Fixe - the weekly newsletter for curious minds. If you are new to Idée Fixe, welcome.
I'm Toni Cowan-Brown and each week I share with you insights on the ideas in tech, politics and pop culture that matter and dominate our minds. And each month I dig into one specific idea that is particularly top of mind at this moment in time. 🧠 I've also now added a section at the end on the latest in the F1 2020 season.
---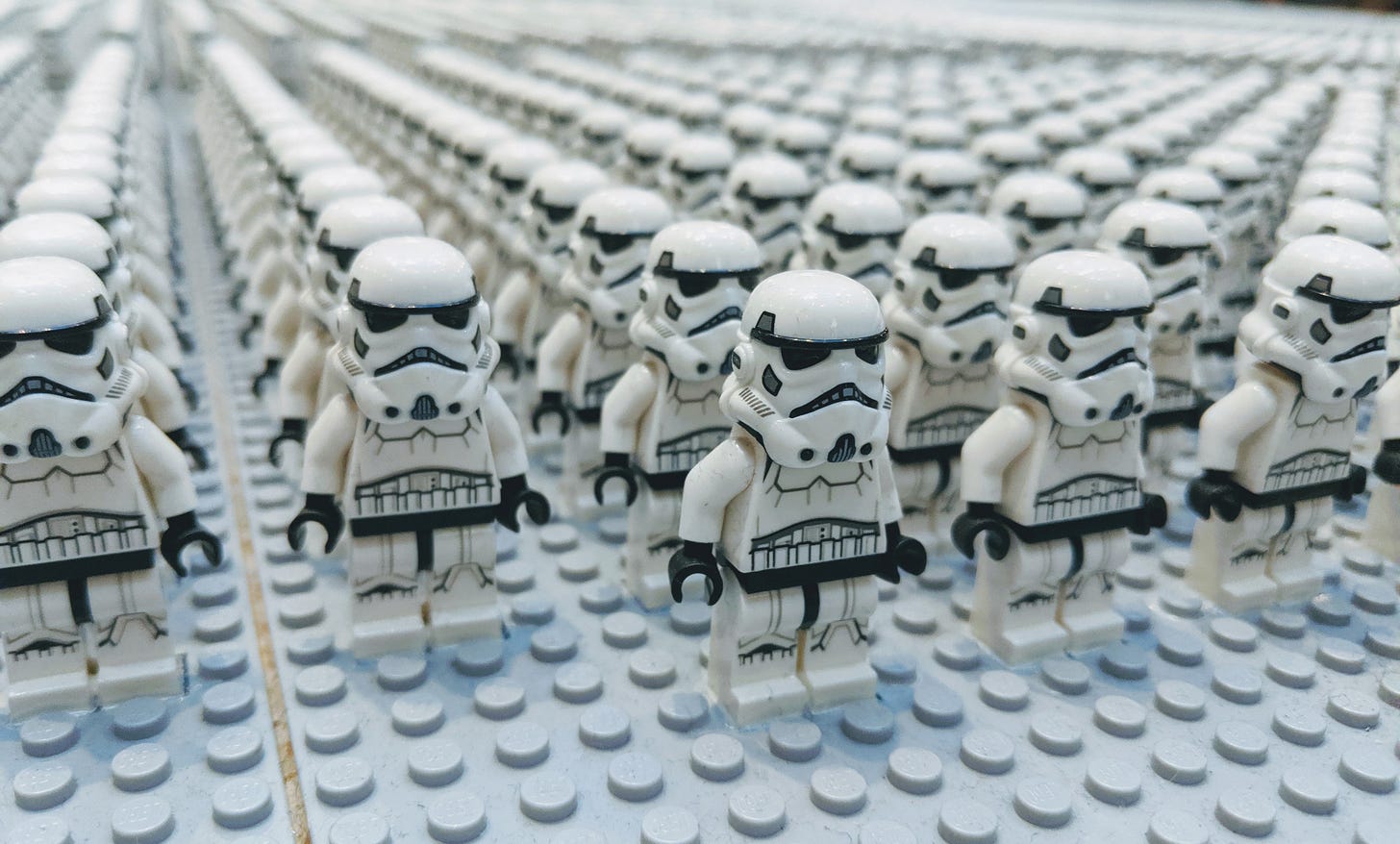 Idée Fixe Interlude 🧠
Until next month's big idea, here's what I've been reading, watching, and listening to lately. This week's overview includes the Atlantic's story about the election that could break America, unpacking data hype, and the ongoing importance of representation and diverse teams.

---
What I'm reading.
💰 That 9,800 words New York Times article about Trump's finances and taxes, a piece many mentioned but most didn't read past the first few paragraphs. If you don't have time for a piece that long, Dina, a TikTok user, created a cheat sheet for it and broke down the piece in bite-size chunks. 👑 The 'It' girl we deserve. 👀 The high privacy cost of a free website. 💊 Is the US or Europe more resilient to COVID-19?
---
Politics 🗳️
The Election That Could Break America (The Atlantic, September/November 2020)
I cannot remember the last time I received an email from the Editor of a newspaper/magazine explaining that they are publishing ahead of time (on their website) a story that was supposed to appear in a later issue and citing urgency as the reason for doing so. The story obviously involved Trump and the 2020 elections.
"As a nation, we have never failed to clear that bar. But in this election year of plague and recession and catastrophized politics, the mechanisms of decision are at meaningful risk of breaking down. Close students of election law and procedure are warning that conditions are ripe for a constitutional crisis that would leave the nation without an authoritative result. We have no fail-safe against that calamity. Thus the blinking red lights."
55 Things You Need to Know About Kamala Harris (POLITICO, August 2020)
An extensive list of all the accomplishments voters need to know about the woman who has achieved many firsts in her extensive political career. Some of her achievements include being: "the first Black woman to be elected district attorney in California history, first woman to be California's attorney general, first Indian American senator, and now, the first Black woman and first Asian American to be picked as a vice presidential running mate on a major-party ticket."
Their mission - to provide campaigns "with access to world-class talent, training and technology to implement digital strategies needed to win" - is an interesting one and much needed. Most people who go into politics as candidates, campaigners or even volunteers are generally not tech-savvy. And yet these days, technology plays a central role in any campaign, but the tools and platforms available are constantly changing and evolving, making it hard to stay on top of everything and ensuring you have an advantage as a campaign.
A fascinating effort, although yet another example of how technology is politicized in America (compared to Europe, for example). There is an unspoken rule of thumb in the US, that campaigning technology is created for one party only. It's either built and sold to the Republicans or the Democrats, but not for both. In this case, tech For Campaigns define themselves as the "lasting digital and tech arm for progressive and centrist campaigns."
---
Technology 📱
Unpacking The Data Hype (Femstreet newsletter, September 2020)
Yesterday, I was on a Zoom with 338 people listening to experts talk about filter bubbles and misinformation. One of the speakers kept saying that if only academics had access to all the data Facebook had, we would be able to understand filter bubbles and miscommunication better. 🤷‍♀️ This feels both incorrect and an over-simplification of what is standing in the way of us truly understanding this space.
I was reminded of this piece about data hype from Sarah Nöckel and the idea that 'data is revenue, and revenue is sexy', and the baffled look you generally get when you ask people to define what they mean by data.
'The Social Dilemma' and The Last Fucking Thing I'll Ever Write About Facebook (The pull request newsletter, September 2020)
Last week, I wrote about my issues with the new documentary, The Social Dilemma. Funnily enough, it seems to be mostly policy wonks, politicians, and academics that seem to enjoy the documentary. The technologists and analysts, not so much. Why is that, I wonder?
Well, Antonio Garcia-Martinez gives us some insight as to why those in tech may have more issues with the documentary's content (or lack thereof), as well as the way it was put together. I will admit that more than anything, I enjoyed Antonio's dramatized exposé of this docu-drama.
"By the end, my anesthetizing bottle of Rioja had almost been drained, the cat was hiding under the couch after witnessing her owner yell at the screen like a mad man and (of course) Netflix autoplayed another trailer as soon as the credits rolled to get me to keep on watching…"
11 Notes on Lego (European Straits newsletter, February 2020)
'Lego' is the answer I give when people ask me what companies are on my list of dream companies to work for. To me, they have gotten so much right when really it would have been so easy for them to take a wrong turn. Nicolas from European Straits and The Family spent some time in Denmark and shares his thoughts about the company.
"Lego is not only an impressive franchise, it's also a company that went through one of the most successful turnarounds in recent corporate history."
---
(Pop) Culture 🍿
What does a made-for-TikTok brand look like? (Thingstetsing, September 2020)
There is little doubt that Instagram has a certain aesthetic that is well-curated and polished, and DTC brands have capitalized on this to reach their target audience. The same is now happening with TikTok but the branding, aesthetic, and audience are certainly not the same.
Compared to Instagram's curated world, TikTok is a place where bold, weird and silly ideas thrive. Popular video formats include lip syncs, pranks and challenges, and the short, less-than-a-minute format means that it's not necessary (or even desirable) to shoot something to a high spec; it's much better to just get your content out there.
The Pinterest Paradox: Cupcakes and Toxicity (Francoise Brougher, August 2020)
Françoise Brougher's story is a familiar one. As the former COO of Pinterest, she shares her story about being one of the only female executives at the company.
Although 70 percent of Pinterest's users are women, the company is steered by men with little input from female executives. Pinterest's female executives, even at the highest levels, are marginalized, excluded, and silenced. I know because until my firing in April, I was Pinterest's chief operating officer.
---
Formula One 🏎
The Russian GP (Sochi) was Sebastian Vettel's 250th GP start, making him the 10th driver to reach such a number of GP starts, and one hell of a seasoned driver.
For Lewis Hamilton, it was a missed opportunity to equal Michal Schumacher's number of GP wins which sits at 91 wins for Schumacher and still 90 for Hamilton. In third position for the total number of wins is Vettel (with 53 total wins), followed by Alain Proost (with 51) and Ayrton Senna (with 41).
Lewis Hamilton named by Time one of the 100 most influential people of 2020
Lewis Hamilton's prowess on track and his activism off track have gotten him on the Time's 100 most influential people for 2020. As you read Bubba Wallace's words you understand just how important representation for all of us.
"I'm the only Black driver in NASCAR's top level. So Lewis' example—as the lone Black F1 driver—is particularly meaningful for me. He shows we're out there doing it. To see him conquering the track damn near every weekend, it motivates me to try to do the same."
This month also marks the start of Hanilton's diversity commission which includes ex-McLaren boss, Martin Whitmarsh, along with 13 other members. He wants this commission to be a positive change for the industry and wants to understand why "change isn't coming quickly enough, and we need to know why".
RACEWKND: A Journal and Club for Formula 1 Fans (a Kickstarter project)
Kickstarters I participate in never really seem to go anywhere, but I'm really hoping this one is successful. During this pandemic, our living rooms have seemingly turned into entertainment hubs - from movies to TV series premieres to global Sporting events.
I'm a sucker for 'coffee table' books and magazines so the promise of a "large-format journal printed on luxurious natural paper stock with more than 175 full-colour, edge-to-edge photographs and absolutely no display advertising" was too good to pass up.
---

---
Unapologetic Women (Season Two)
Some shameless promotion for the podcast I started with one of my favourite people at the start of the year. As we sat down to think about season two of Unapologetic Women, it became obvious that we had to focus on the 2020 US elections in one way or the other.
My co-host, Sorcha, has extensive US campaign experience both on and off the field. I on the other hand do not, so I have decided to play catch-up and attend a Stanford course on "Technology and the 2020 Election" - so far, it's not too bad.
Season two will be our usual unfiltered and unscripted discussions with a key focus on this election cycle. Sorcha will share her expertise in this space and I will be sharing my experiences and the takeaways from this course.

---
Ted Lasso (Apple TV +)
This show definitely has people divided. I absolutely loved it. Ted Lasso is about a small-time football (American football) coach who is hired by the new owner of a professional football (no, I will never call it soccer) team in England. It's funny, it has some great English swear words and humour, and more than anything it's the wholesome content I need right now.

---
We're Not Really Strangers (card game)
Koreen is a model and artist based in L.A. She created the WNRS card game with the intention of empowering meaningful connections with others. She built the WNRS platform to bring more meaningful connections to everyday life.

---
🚀
Follow me on
Instagram
and
Twitter
for extras that don't make the newsletter.