Discover more from Idée Fixe by Toni Cowan-Brown
A newsletter for the curious minds, and your weekly in-depth dive into the ideas that dominate our minds - both the delusional and the pedestrian. Each week I share insights on the ideas in tech, politics, pop culture and F1 that matter.
Over 1,000 subscribers
Idée fixe 3.2: eSports
Part two: eSports Is Having a Moment
Note: You are receiving this email because you subscribed to my weekly newsletter. I'm Toni Cowan-Brown and this is Idée Fixe - your weekly newsletter into the ideas that matter and dominate our minds for a prolonged period.
In between the big trend pieces, you will receive Idée Fixe interlude which will cover the latest in tech, politics, and pop culture. Thank you for being here.
---
Idée Fixe #3: eSports 🎮
This is my two-part guide to the eSports industry. I already published part one: The incredible Growth of This Industry. If you haven't read it yet you might want to start there. This is part two: eSPorts Is Having a Moment where I will look at the unique ecosystem of eSports and its future, as well as the momentum eSports is having right now as it provides starved fans in 2020 with an alternative.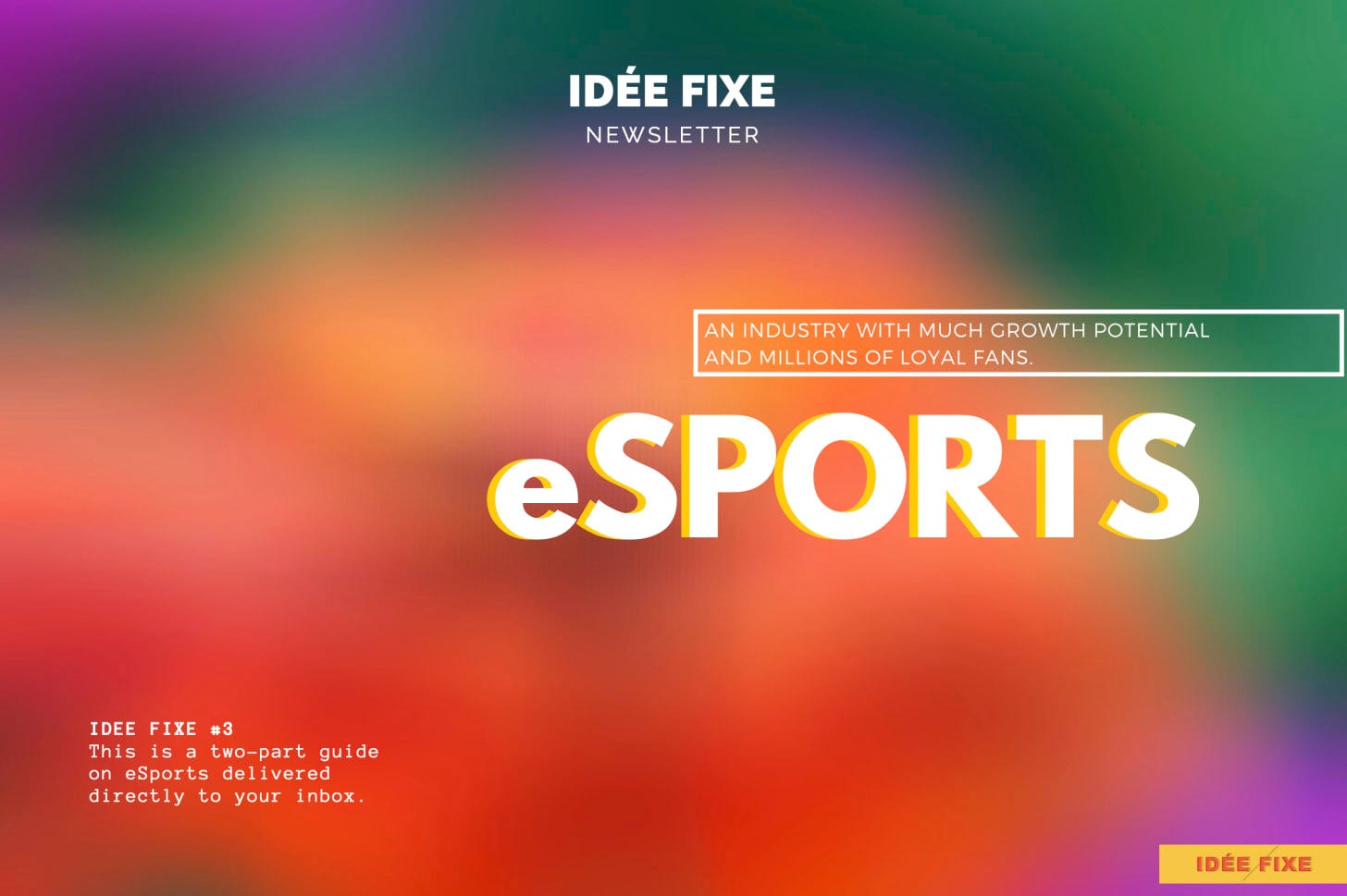 ---
Part Two: 
eSports Is Having a Moment
What you will learn from this segment:
The Unique Ecosystem of eSports

Where is The Money in eSports?

Why is eSports Having a Moment Right Now?

What Does the Future of eSports Look Like?
---
The Unique Ecosystem of eSPorts
The eSports set-up is fairly similar to that of traditional sports.
Commentators provide information on the teams.

Professional players from around the world compete in salaried leagues and tournaments.

Competitive and professional gamers from different leagues or teams"face off in the same games that are popular with at-home gamers." These tournaments sometimes offer prize pools worth upwards of millions of dollars. Fortnite, League of Legends, Counter-Strike, Call of Duty, Overwatch… are just some of the most popular games being played online and in national and international tournaments (such as The International and Fortnite World Cup).

A live audience watches the game unfold. As well as millions of at-home-fans watching the (live) broadcasts through streaming platforms like YouTube (Google), Twitch (Amazon), and Facebook.

Finally, you also have the betting arm (just like with most sports).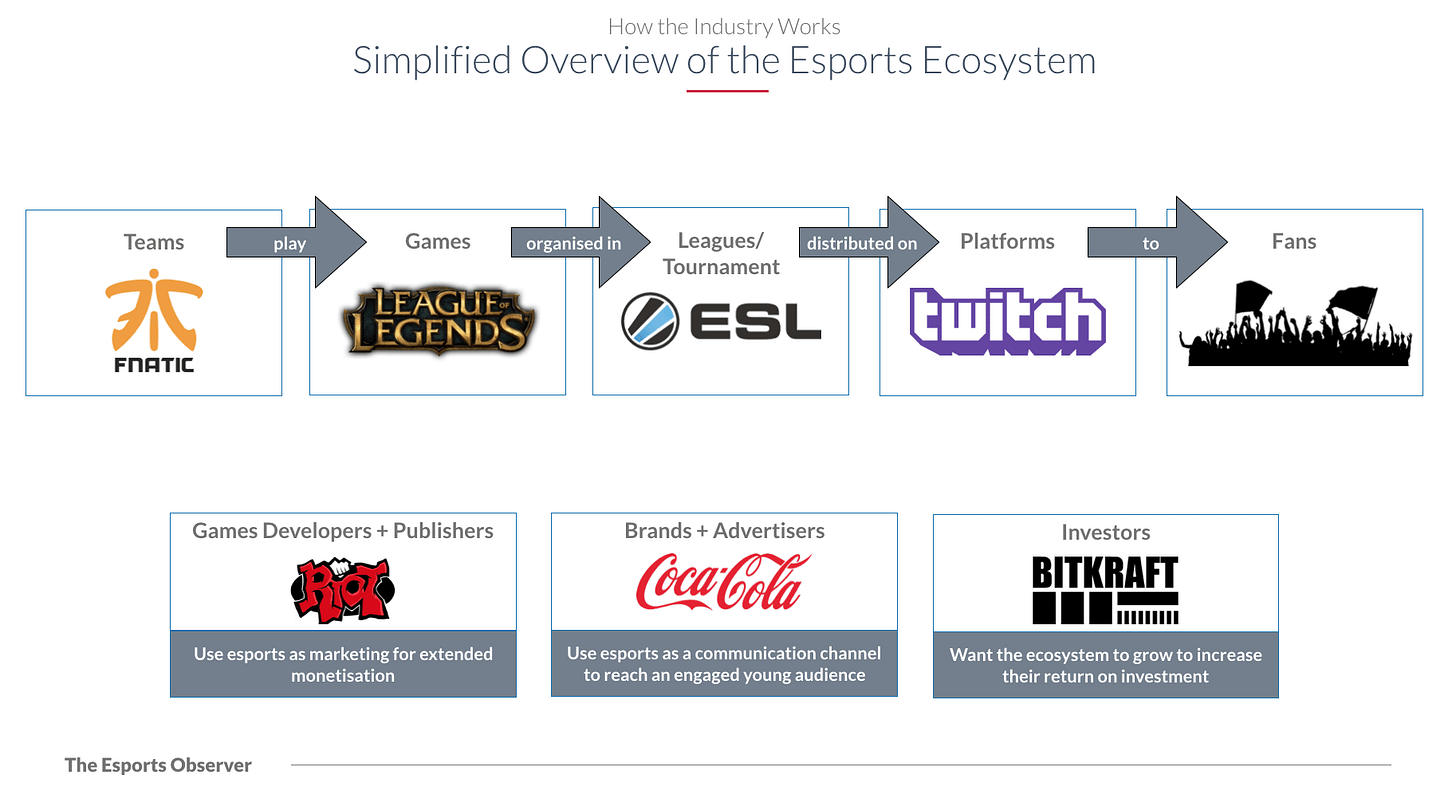 One big uniqueness of the eSports ecosystem is that unlike 'traditional sports', publishers own the games these gamers are playing. For example, Riot owns League of legends, but the NBA certainly does not own basketball as a whole.
👉 Those that play (professional players)
The players are mostly adolescents and emerging adults averaging 18-25 years. Colleges and Universities around the world are realizing that eSports are a serious enterprise and are offering some sort of eSports programme.
👉 Those that watch (fans and consumers and the wider community)
Today the vast majority of the eSports fanbase are people in their teens to early thirties. They are the first few generations to grow up with online gaming omnipresent and available to most of them at decreasing costs.
The audience is growing at an insane rate and has expanded by just over 50% since 2016 to now include 557 million casual viewers and enthusiasts. In the future, the audience will most likely diversify with a greater percentage of the overall population set to become a potential audience pool for eSports.
👉 Those that bet on the games (see a complete guide on betting in esports here)
As the money pours into this nascent industry, the temptation for players to throw off games, place bets, and fix matches is growing.
In 2018, Eilers & Krejcik Gaming predicted that by 2020, the global eSports betting market and wagers on eSports would be generating $13 billion dollars. And this report came before the legalization of sports betting in the United States in 2019.
Across Europe and Asia, eSports betting markets have been active and regulated for some time now. However, because a lot of the eSports action takes place in a virtual world, understanding which jurisdiction to apply is far from easy. Making any kind of regulation in this space still fairly tricky and complicated.
---
Where is The Money in eSports?
💰Tournaments and sponsorship opportunities
Over time, eSports has evolved from an informal and niche community of casual gamers battling it out online into a global phenomenon with gaming stars and a billion-dollar business. The winning prizes during tournaments are pretty big (5 to 6 figures), especially when you consider that the average age of these gamers is 18-25.
"The International" DOTA 2 tournament awarded a total of $20.7 million, with first-place Wings Gaming winning $9.1 million.
That being said, big-brands are by far the biggest source of revenue in eSports. One of the main draws from eSports is the ethnic diversity of the gamers and the global audience it attracts. Both of these characteristics are incredibly appealing to big brands and sponsors. According to research from Newzoo, in 2018 brands would invest $694 million in eSports ventures in that year alone.
💰Media rights
Media rights, however, are growing the fastest and are the second-biggest source of revenue, behind sponsorships. Newzoo expects eSports will generate close to $400 million by 2021 in media rights deals.
Up until recently, the Overwatch League boasted one of the biggest content deals in sports, with Twitch paying $45 million per year. This January (2020) however, Google entered a media rights partnership with Activision which includes rights for Call of Duty, the Overwatch League, and HearthStone. The value of the deal is reported to be $160 million paid over three years.
Note: Due to the Coronavirus, we are likely to see a surge in eSports media rights as out-of-home ad spend decreases with all sporting events canceled. And it's the streaming platforms that stand to benefit the most from this latest shift. Hence why the long-term deal such as the one Google just did with Activision makes a lot of sense right now.
💰Large-scale sports programmes
We are likely to start seeing, especially in the USA, large-scale sports programmes being created. Just like basketball and football, such programmes are (and will become) major revenue sources.
Finally, as discussed above, a big chunk of the money is also made from betting.
---
Why is eSports Having a Moment Right Now?
With most sports on hold because of the coronavirus pandemic, watching the world's most talented gamers battle online has never been more popular.
When the COVID-19 pandemic hit us earlier this year, it only took a month for things to start shifting - with all sporting events on hold or called off we saw a sharp decline in visits to the ESPN website, we also saw an increase in the number of streaming hours being consumed on platforms like Twitch and across the world traditional sports were being replaced by eSports formal and informal competitions.
eSports has certainly provided some comfort and entertainment to starved fans - both as consumers and viewers. According to the Games Market Dynamics, consumer Spend on Video Game Products Reached the Highest Total in U.S. History in Q1 of 2020, spending $9.8 billion on games and game content.
"Video Games have brought comfort and connection to millions during this challenging time," said Mat Piscatella, games industry analyst at The NPD Group. "As people have stayed at home more, they've utilized gaming not only as a diversion and an escape, but also as a means of staying connected with family and friends."
Professional athletes are demonstrated that their skills are transferable (somewhat) to the virtual world. 🏎 F1 was one of the first to offer virtual Grand Prix with mostly the younger drivers (think Leclerc, Verstappen, Albon, Bottas, Norris…) taking their seats in races from the comfort of their home. 🏀 Others have hosted eSports competitions such as the North America National Basketball Association which featured 16 players, 🎾 Andy Murray and Rafael Nadal played on virtual clay during the Mutua Madrid Open Virtual Pro…
---
What Does the Future of eSports Look Like?
One of the elements the has slowed the growth of eSports is the lack of a national or international professional league, think NFL, NBA, La liga, or the Olympics. Almost all professional sports teams are affiliated with a city, country, or area which is currently mostly not the case with eSports.
One of the big changes in 2020 for the Call of Duty league was the adoption of a city-based structure. This more traditional set-up was adopted by Overwatch back in 2018 and so far they have kept it. They have had tremendous success as a pioneer of the city-based model.
With that said, people seem to be torn on whether or not this city-based model is really what will propel eSports to the next level. Do they really need to follow the traditional (maybe even archaic) structures to be successful? There is also an argument that such a model is not actually needed as the streaming business allows us to watch anyone and any tournament from anywhere in the world so there is no real need to bring the tournaments to cities.
🧐 Some final predictions for the years to come:
The term eSports will become obsolete.

We will see more games on university teams, more university programmes will emerge, and more scholarships will be available.

eSports careers will become more common.

Both the eSports audiences and the players will diversify.

Still most popular in the USA and China, it is expected that in the coming years eSports will gain traction in Latin America, the Middle East, Africa and Europe.

We might just start seeing such professional games heading to the Olympics.

As the industry matures and gamers start to have more Klout (and hence leverage), and we will see players' unions start to emerge.
---
🚀Follow me on 

Instagram

 and 

Twitter

 for extras that don't make the newsletter.

---
Resources  

🗞 Articles
The Virus Changed the Way We Internet (New York Times, April 2020)
Esports is the future of all sports – here's why (The Conversation, October 2019)
The future of esports is bigger, messier, and worldwide (VentureBeat, January 2020)
Can the new Call of Duty League be the NFL of competitive gaming? (The Verge, January 2020)
With new permanent teams, professional League of Legends will look more like the NBA (The Verge, November 2017)
The World's Most Valuable Esports Companies (Forbes, October 2018)