Discover more from Idée Fixe by Toni Cowan-Brown
A newsletter for the curious minds, and your weekly in-depth dive into the ideas that dominate our minds - both the delusional and the pedestrian. Each week I share insights on the ideas in tech, politics, pop culture and F1 that matter.
Over 1,000 subscribers
Idée Fixe Interlude #4
Let's have more unscripted conversations.
Thank you for being here, when really you could be in many other places. If you are new to Idée Fixe, welcome. I'm Toni Cowan-Brown and this is your weekly newsletter into the ideas and trends that matter, and dominate our minds for a prolonged period.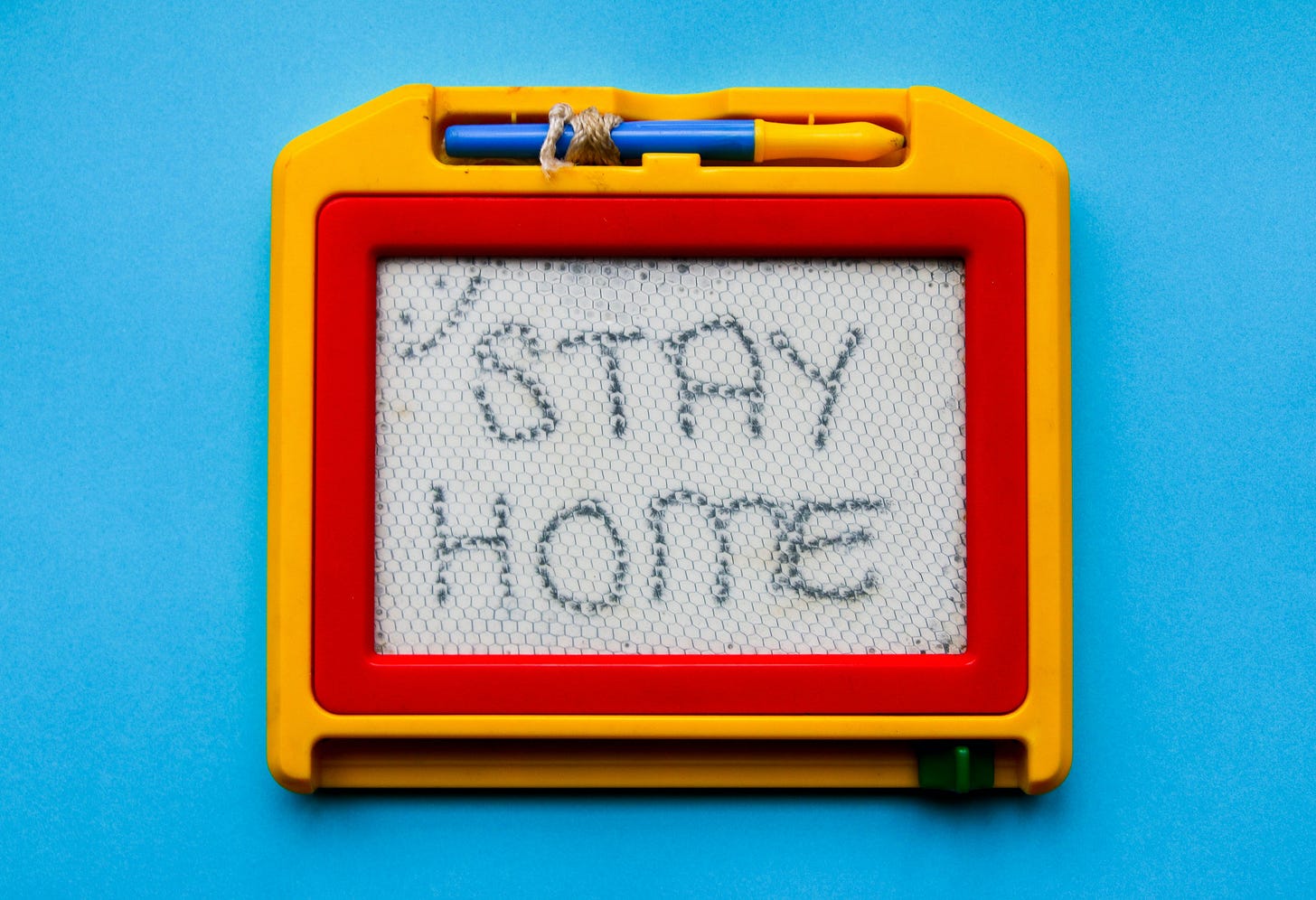 Idée Fixe #3: eSports 🏁
For the next idée fixe, I'm going to look at the growing billion-dollar industry and the global phenomenon that is eSports. If you haven't yet, please check out Idée Fixe #2: The Lab-Grown Industry and Idée Fixe #1: Remote Work in 2020.
Idee Fixe Interlude 🥳
This week's Idée Fixe Interlude includes Hillary Clinton's endorsement of Biden and a look at her four-part docu-series. Finding global solutions to global problems isn't ever simple but is it even possible, and can we do it whilst still protecting our privacy. What's the viability of the new Clubhouse app and what other events are we going to be streaming online?

---
First up.
Hillary Clinton endorses Joe Biden in a show of party unity and wishes he was President right now. Talking of Biden, this piece by The Tempest on how the media has been covering him and the allegations by Tara Reade - a story originally published by The Intercept. It is a much needed deep dive into the business of media and the role the press plays in "enabling certain things to blow up while keeping others at bay".
---
Politics 🗳️
We Are Living in a Failed State (The Atlantic, April 2020)
This piece about how COVID-19 didn't break America because it was already a failed state is a fascinating and somewhat depressing read. For the past months, Americans have woken up to a government with no national plan and no real solution to this global pandemic.
"The crisis demanded a response that was swift, rational, and collective. The United States reacted instead like Pakistan or Belarus—like a country with shoddy infrastructure and a dysfunctional government whose leaders were too corrupt or stupid to head off mass suffering."
Although not nearly as bad, Europeans have been waking up to a similar feeling. Not so much that of a failed state but maybe that of a failed project where individualism and nationalism take center stage. This global pandemic could have been the make-it or break-it moment for the European Union. And yet Robert Schuman's dream, now 70 years in the making, of a new form of political (and social) cooperation in Europe still doesn't look fulfilled. 🇪🇺
It's clear that in such times, citizens are looking to their local and national governments rather than the European institutions who seem to have little power right now. And yet again, we are attempting to solve a global problem with local and national solutions.
---
Technology 📱
Welcome to Apple. A one-State Party (Tortoise Media)
"Cook's Apple resembles a liberal China. It is devoted to enabling individual creative expression, but on its terms: it has become a highly centralised, hierarchical and secretive state."
What would it look like if we reported on tech giants as if there were a nation state - after all some tech giants shaping our daily lives wield just as much power?
Inside the Clubhouse: The surprisingly compelling audio app that has consumed my life (Divinations, April 2020)
"Clubhouse is working because it's halfway between a podcast and a party, and people love both of those things. […] Of course, live audio conversations aren't the only way to socially learn. Text and video are great, too. But unscripted conversations have unique competitive advantages that are unbeatable in certain scenarios."
Clubhouse is "an audio-based social network where people can spontaneously jump into voice chat rooms together" and an app that most people outside of Silicon Valley haven't heard of. The secrecy behind the app has created a certain level of hype which in turn taps into our basic human desire to belong. It's the most used playbook in marketing and yet it works time and time again.
Nathan Baschez looks past the carefully crafted hype, and pens an essay focused on the actual product and its probability for success. It's definitely worth a read withsome great insights into what makes the product 'sticky'.
Can We Track COVID-19 and Protect Privacy at the Same Time? (The New Yorker, April 2020)
"As difficult as it is now to look ahead, lawmakers like Cantwell and privacy advocates like Schwartz are asking us to think about how much privacy we are willing to sacrifice to combat a rampaging virus. If we accept government data tracking, the surveillance necessary to curtail covid-19 could become a permanent fixture in our lives."
It sounds like we should be getting ready for even less privacy than we already have. A few months into this pandemic and solutions are being put forward in order to slow down and contain the spread, which is obviously a good thing.
Most of the solutions being considered though will have big privacy implications and concerns. And I (as do many others) have so many questions. Can we both trace and track, and protect our privacy? Who sets the rule? Where do we draw the line and who decides? Who do we trust with our privacy and (location) data? Are we less concerned about our privacy rights when our health (and the health of others) is at stake?
---
(Pop) Culture 🍿
Anna Wintour Made Condé Nast the Embodiment of Boomer Excess. Can It Change to Meet This Crisis? (NYT, April 2020)
Wintour is at the head of both a fashion and a magazine empire (Vogue is Condé's most lucrative U.S. publication). Print and advertising are collapsing and have been since 2008, the fashion industry as a whole has been able to stay afloat. That being said, "Clothing is now the hardest-hit sector of the devastated retail industry" and there is a need to create a business model and new revenue streams that don't yet exist.
"The theatrical flourishes and lavish lifestyles of the great media figures of a generation — from Ms. Wintour to Donald Trump — seem ill suited to the moment. These days, even the most charismatic executives are doing Zoom calls in their sweatpants."
Facebook to stream a virtual graduation ceremony with Oprah Winfrey as commencement speaker (The Verge, April 2020)
Facebook has announced that it will be streaming a live graduation event on 15 May (on both FaceBook and Instagram), with a commencement speech from Oprah Winfrey, and others. This is just another of many student milestones that has been reimagined during these unprecedented times - classes are taking place on Zoom, proms hosted on TikTok, yearbooks being created on Instagram...
---
Hillary (Netflix)
The Atlantic did a great piece about how this four-part documentary is a warning to all of us. The documentary is certainly not an ode to Hillary but nevertheless does a great job of giving us the insights into her past and the career that ultimately shaped her.
"It's a call-and-response—here's a scene from her 2016 run; now here's what informed it—and it's effective in its straightforward presentation."
Ramy Youssef: Feelings (HBO)
Ramy, a young Egyptian-American stand-up comedian, tackles universal predicaments and does so from the specific vantage point of a Muslim millennial. In this segment he is raw, honest, and very charming, and is able to bring his audience on an incredible journey.
Ramy is also known for his TV series called Ramy which is also well worth watching if you haven't already.

---
From the Corner of the Oval Office by Beck Dorey-Stein
It's part West Wing, part Sex and the City and it makes for an incredible page-turner. It's full of Witt, humour and I still can't quite believe that it's a biography rather than fiction, seriously Beck is one interesting and fearless character.
Her first novel is a very clever description of her time as a sténographie at the White House - a job that she very nearly didn't get, because you know life and all. Beck is the modern-day young woman with her own struggles, a few too many unapologetic fun nights, and ambition.

---
Jason Fried believes that email is still magic and deserves "a dust off" and this is his take on what a new inbox experience could look like.
"With HEY, we've done just that. It's a redo, a rethink, a simplified, potent reintroduction of email. A fresh start, the way it should be."
Note: Due to COVID-19, they have pushed back the release date to later in the year to allow for their team to have some breathing room whilst dealing with all the aftermath that comes with WFH and school closure. You can still sign-up though to get on the waiting list.
---
🧐Shit I Googled this week
Q: What's the most asked question in Google?
A: Not sure how I got onto this and it was definitely a weird and slippery slope down this rabbit hole. This list of the 1000 most asked questions feels very much like an insight into what's on people's minds during a moment in time. Some of these questions just brought about many more questions for me if I'm being honest.

🚀Follow me on 

Instagram

 and 

Twitter

 for extras that don't make the newsletter.