Discover more from Idée Fixe by Toni Cowan-Brown
A newsletter for the curious minds, and your weekly in-depth dive into the ideas that dominate our minds - both the delusional and the pedestrian. Each week I share insights on the ideas in tech, politics, pop culture and F1 that matter.
Over 1,000 subscribers
Idée Fixe Interlude #11
Is there such a thing as good conflict?
Thank you for being here. You are receiving this email because you subscribed to Idée Fixe - the weekly newsletter for curious minds. If you are new to Idée Fixe, welcome.
I'm Toni Cowan-Brown and each week I'll share with you some insights on the ideas in tech, politics and pop culture that matter and dominate our minds. And each month I dig into one specific idea that is particularly top of mind at this moment in time. 🧠 I've also now added a section at the end on the latest in the F1 2020 season.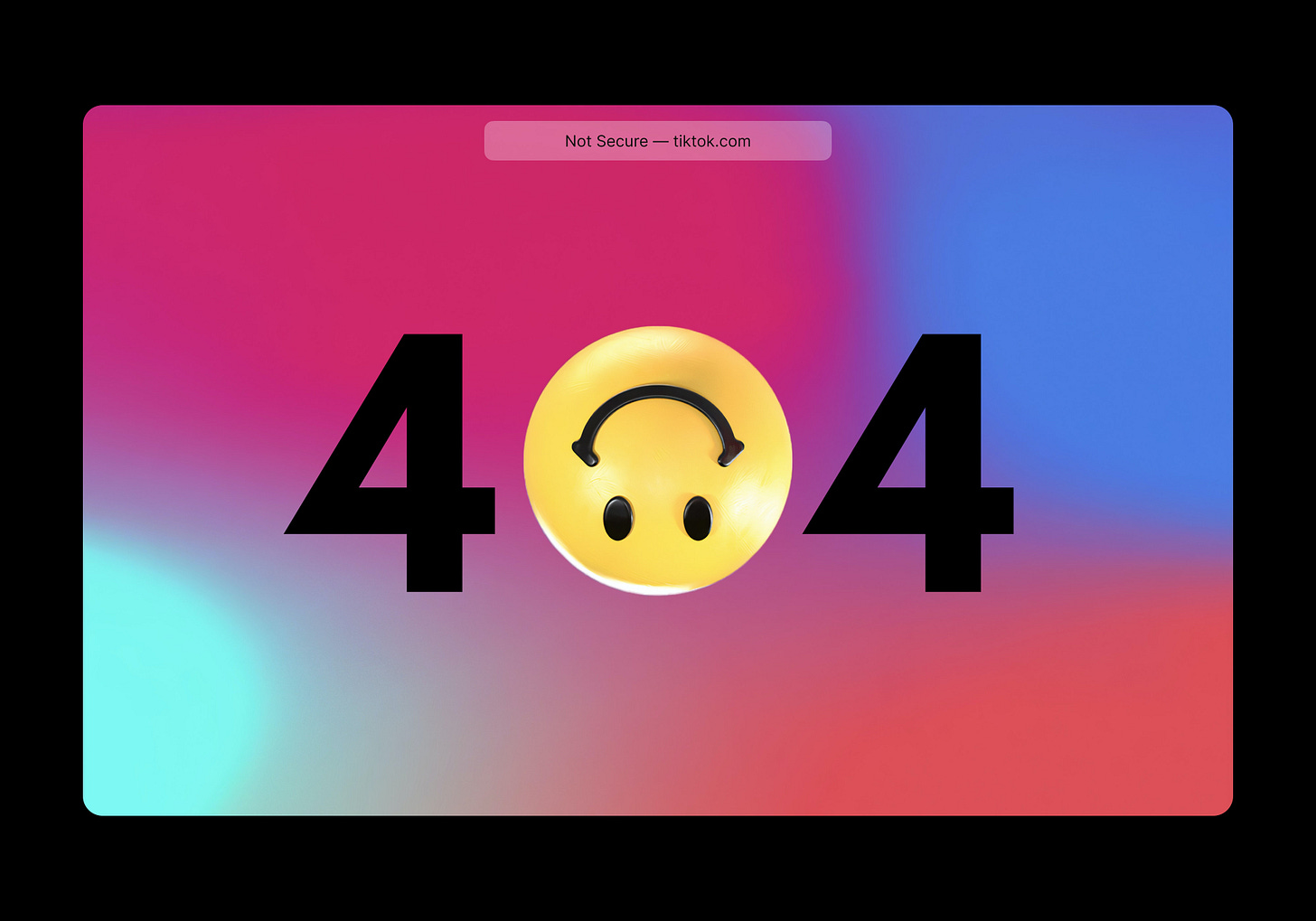 ---
Idée Fixe #5: Cancel culture 💀
Next week we will kick-off the fifth idée fixe which will focus on cancel culture as a concept and a trend.
Idée Fixe Interlude 🧠
Here's what I've been reading, watching, and listening to lately. This week's Idée Fixe Interlude includes some thoughts on TikTok's future in America, how the US postal service is both vital and in real trouble and some projections on the future of the media's business model.

---
What I'm reading.
📱 Why your boomer parents are obsessed with Sarah Cooper. 😂 This great reminder to do your research as one acclaimed Irish novelist experiences (and owns up to). 💪 Changing The Way Women In The Public Eye Are Treated Online Is On All Of Us, Period. 😷 Corona Virus and the return of plastic (in pictures) 🤬 Companies Made Millions Building Unemployment Websites That Didn't Work 💻 The latest McKinsey report on Esports and the next frontier of brand sponsorships. 🌍The Passport - Newfound meaning behind that slim and elegant booklet. 😂 Trump, QAnon and The Return of Magic (video).
---
Politics 🗳️
How it happened: Inside Biden's search for a running mate (AP, August 2020)
I'm sure you are very much aware by now that Kamala Harris was announced as Joe Biden's running mate. In doing so she is making history in a few major ways: She's the first Black woman (or POC) to be on a "presidential ticket of a major U.S. party (1), she's only the second Black person to run for VP or President (2) and only the fourth woman to do so in either of the two major US parties (3).
Too often we don't get to hear about how decisions are actually made - and there are many reasons for this, some logical and some less so. As such, I very much enjoyed reading this piece on how Biden made his choice.
On Tuesday, Biden tapped California Sen. Kamala Harris to be his running mate, making her the first Black woman to serve on a major party presidential ticket. This account of how he made that decision, the most important of his political career, is based on interviews with 10 people with direct knowledge of the vetting and selection process. Most insisted on anonymity to disclose private conversations and deliberations.
Trump goes postal (August, Popular Information)
Trump has voiced his 'concern' with mail-in voting and has not so subtly suggested he might not agree with the November election results.
Trump, however, lacks the authority to delay November's election. He does, however, have the power to undermine the ability of the U.S. Postal Service (USPS) to facilitate mail-in voting. And that's what Trump is doing. 
And we should all be concerned about this because as of right now the US postal service is on the brink of financial collapse which would be devastating.
---
Technology 📱
Congress threatens antitrust against the Big Tech but as much as we read about it, it doesn't really feel as if anyone is feeling particularly threatened. Apart from maybe the smaller startups which aren't the ones being initially targeted. If you read anything, I recommend reading Matt Stoller's take on that Wednesday to Friday rollercoaster.
In sequence, Wednesday was the day of a historic Congressional hearing on big tech monopoly power, Thursday was when these firms announced blow-out earnings even in the midst of an economic collapse, and Friday saw Donald Trump announce he might ban the social media firm TikTok. That's democracy, monopoly, and national security in sequence.
Trump threatens to ban the social app Tik Tok. There have been a lot of debates about TikTok and it does, without a doubt, present a real national security threat. However, just like calling for the UK to leave the EU, calling for TikTok to be banned will neither be smooth nor will fix the real issues. And as the Verge points out, such an abuse of power could set a president that no one wants to see.
Since Trump's announcement we have learned that Microsoft is considering buying Tik Tok and so is Twitter.
Microsoft already owns Minecraft and Xbox so this isn't an insane acquisition.

Twitter and TikTok are in early talks about merging, though it's still very unclear how serious Twitter is about such an opportunity. With 100 million users at stake, I imagine Facebook would prefer the Microsoft route as the Twitter/TikTok merger would make both companies better equipped to compete with Facebook.

Josh Constine has put together a list of potential TikTok replacements for when the day arrives.
---
(Pop) Culture 🍿
It continues to be very good to be The New York Times (NiemanLab, August 2020)
One of the great paradoxes of this pandemic with regards to the media industry is that in terms of subscribers and readership, the numbers are up, way up. We have turned to the media during these uncertain times to get the latest factual information. However, no matter how good they are doing nearly all media outlets have had to furlough many of their employees.
The NYT now makes more revenue from digital than from print and continues to add new subscribers at a record pace. But its brutal COVID-driven drop in advertising will be echoed all across the industry.
How social justice slideshows took over Instagram (Vox, August 2020)
Online activism, coupled with in-person organizing, reached a zenith in June, as daily Black Lives Matter protests erupted across the country. Instagram, once an apolitical din, reflected that change. It no longer felt appropriate — even for celebrities and influencers, who tend to exist unfazed by current events — to skip over politics and resume regular programming.
Although many still criticize this type of activism and content creation, it's actually a very efficient way of lowering the barrier to entry to such information and activism. The trick is to find a few accounts that actually do proper research and reference their data and claims. Creating beautiful slides and graphs isn't the end goal, it's simply the means. And it's working.
The unexpected solution to this posting ambivalence came in the form of bite-sized squares of information. The 10-image carousel, which Instagram launched in 2017, has been repurposed by activists, independent artists, advocacy groups, and well-meaning individuals as a means to educate and inform the masses, one slide at a time. Consider it something like PowerPoint activism.
---
Formula One 🏎
The short return of the Hulk
The first weekend in Silverstone, Hulkenberg ended up not taking part in the race due to difficulties with his Racing Point car. However, all things were forgiven when he did eventually race last weekend (again in Silverstone). Sadly, none of us got to see what we really wanted to which was the Hulk on a podium. Yet again having a win seems elusive for this F1 driver. There is still some unfinished business there as he looks at a seat with Alfa Romeo for 2021 and in the meantime, he'll probably stay ready in case anyone else needs a reserve driver during this season. 😎
It's been confirmed, Perez has tested negative for COVID-19 and has been cleared by the FIA to race this weekend at the Spanish Grand Prix which he has described a track that "tests the characteristics of your car," and "If you're fast in Barcelona, you can be fast anywhere".
Lewis Hamilton wins (big) at the British Grand Prix:
7 is the number of wins Hamilton now has in Silverstone

20 is the number of races he has lead from start to finish, breaking another record which was held by Ayrton Senna with 19 races.

91 is the number of pole positions he has ever held, followed by Michael Schumacher with 68 and Ayrton Senna with 65.

Hard not to mention his incredible finish with just three wheels during the first race at the British Grand Prix.

Finally, during last weekend's podium ceremony, we saw how old habits die hard. In a scene that has now been named the trophy heist, Hamilton picks up the trophy for first place which was Verstappen's not his. Next one mate. 😂
Drivers unite in the fight against racism in new film
World champion Lewis Hamilton has been one of the most vocal public figures in recent months, and all the drivers have been showing their support for the cause by wearing 'End Racism' t-shirts before each race this year. This powerful message (#WeRaceAsOne) was captured by the incredible team at Race Service (the LA-based cross-media creative agency). I'm really hoping the FIA and F1 stick with this programming and messaging.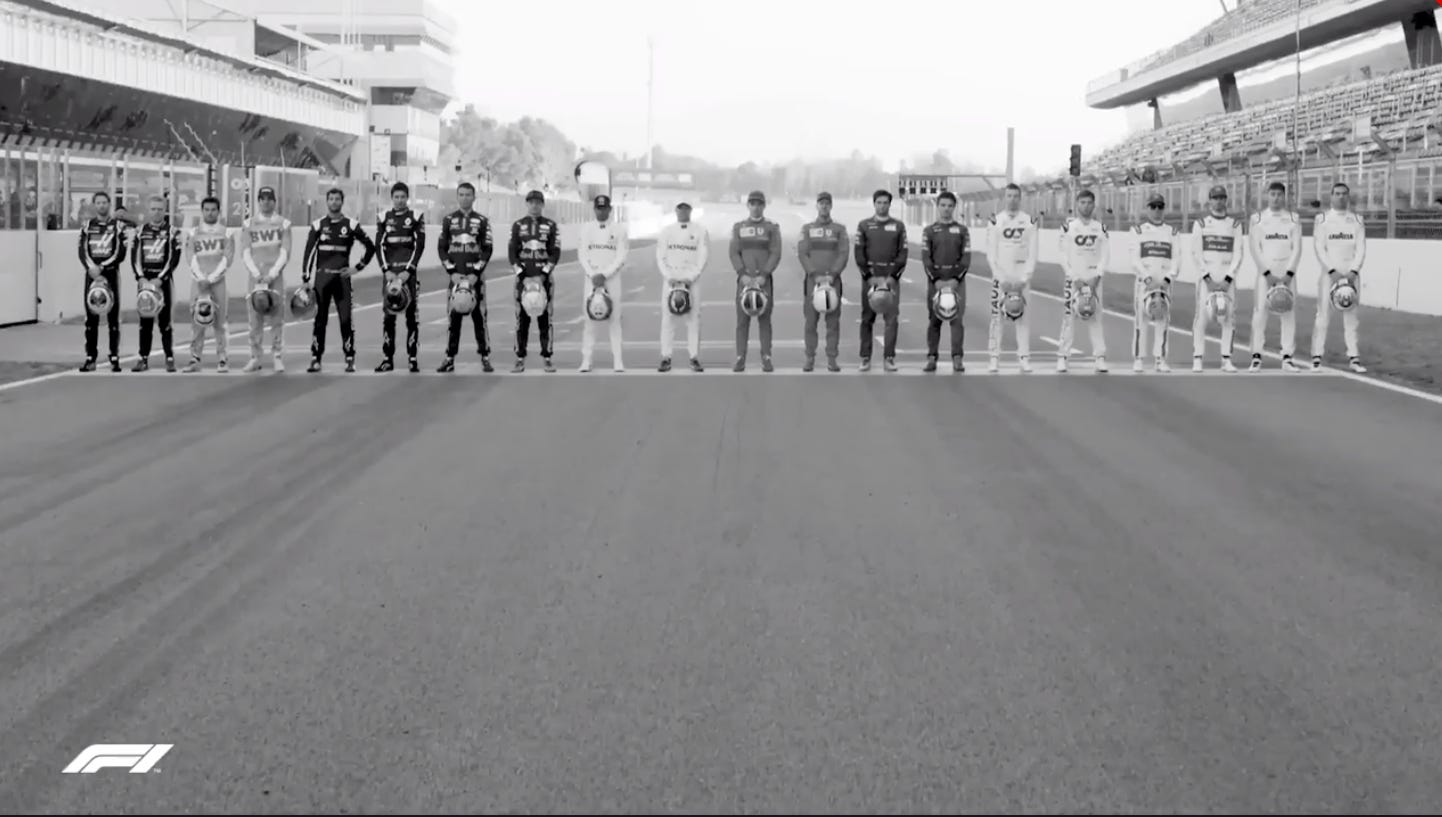 ---

---
Conflict Is Not Abuse by Sarah Schulman
"Good Conflict. The world is consumed by violent fights and hostile disagreements. Sarah Schulman sees a way out of them." This is the title that captured my interest and for once was not disappointed by the content - this was not a case of a clickbait title with very little actual substance. This interview of sorts with Sarah Schulman made me click 'buy now' 3 minutes after reading the piece.
"For those in positions of dominance, "opposition feels like an attack." Meanwhile, for those who have survived trauma, "it's sometimes so hard to just keep it together that being asked to be self-critical can feel like your whole world is going to fall apart." The explanation is different, but the result can be similar."
Schulman is advocating for deep, painful, and thoughtful work that has long-lasting consequences. It's the kind of work that can take a lifetime and one that demands endless self-awareness but one, in my opinion, that is not taught nor practice nearly enough in today's society.
"The social world she's describing is so time consuming," her friend Lana Dee Povitz told me. It demands constant self-scrutiny, ongoing dialogue, diligent fact-finding, and availability for intervention in the personal lives of one's friends. "That world she's asking for is nearly impossible under capitalism, […] The fact that something could go wrong does not mean we are in danger," as she writes in the first chapter of Conflict Is Not Abuse. "It means that we are alive." - Exerpts from an interview with Molly Fischer for The Cut

---
The Speed Cubers (Netflix)
It's so much more than a documentary about speedcubing - which is a sport involving solving twisty puzzles as fast as possible, the most famous being the 3x3x3 puzzle, otherwise known as the Rubik's Cube. It's a moving story about friendships, autism and the journey we are all on - finding our place in society and groups.

---
A very clever, succinct, and visual Instagram account focusing on dissecting progressive politics and social issues in graphic slideshow form.
---

---
🚀
Follow me on
Instagram
and
Twitter
for extras that don't make the newsletter.