Discover more from Idée Fixe by Toni Cowan-Brown
A newsletter for the curious minds, and your weekly in-depth dive into the ideas that dominate our minds - both the delusional and the pedestrian. Each week I share insights on the ideas in tech, politics, pop culture and F1 that matter.
Over 1,000 subscribers
Idée fixe 6: The Re-sale of Luxury
And our bad wardrobe habits.
Thank you for being here. You are receiving this email because you subscribed to Idée Fixe - the weekly newsletter for curious minds. If you are new to Idée Fixe, welcome.
I'm Toni Cowan-Brown and each week I share with you insights from tech, politics, and pop culture that matter and dominate our minds. I've also added a section on the latest in the F1 2020 season. And each month I dig into one specific idea that is particularly top of mind. 🧠
---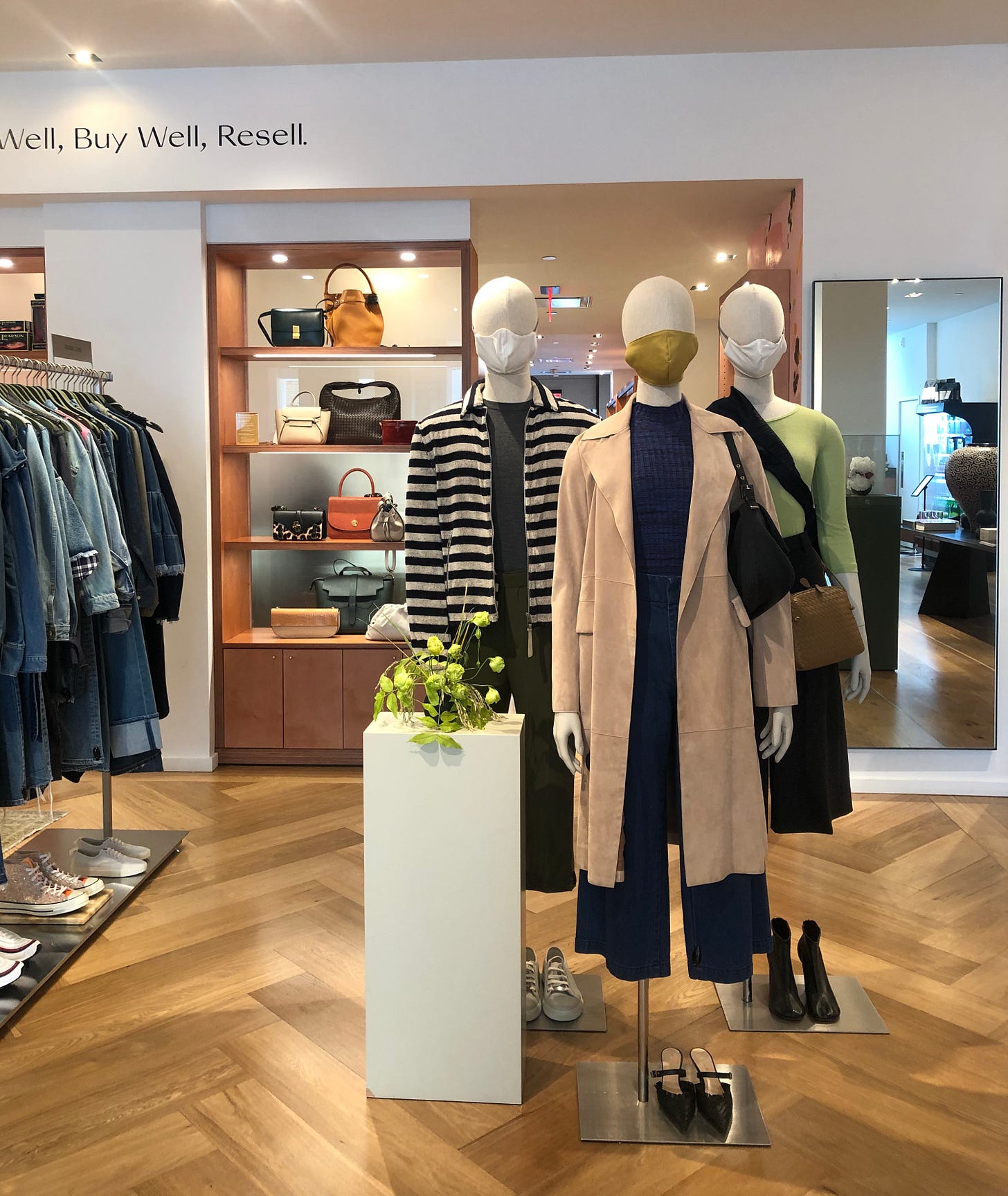 Idée Fixe #6: The Re-sale of Luxury
The global clothing and apparel market is worth $758.4 bn. The US sustainability market is expected to reach $150bn by 2021. The second-hand fashion industry, also known as "re-sale" or "pre-loved", is now a market worth some $24bn, and one that is expected to grow to more than $50bn by 2023. And according to ThredUp, over the past three years, the apparel re-sale business grew 21 times faster than sales of new apparel.
There has been a big push to be more sustainably-minded in many aspects of our life - and fashion is one of those areas. We've increasingly been told about the sustainable challenges posed by the fashion industry - especially fast-fashion - and yet, many of us probably still "fall prey to the quick-click, Paypal's-your-uncle, Instagram-driven purchase."
During the pandemic, some of us might have been staring at our overflowing wardrobe and wondering what's the point? Even Blake Lively has given up with shoes. She now just adds her heels in post production. 🤷‍♀️
So it's maybe not all that surprising that re-sale and second-hand platforms have managed the stay somewhat relevant during these times. And in doing so, introducing us to the so-called circular economy. And according to Anna Wintour, there is an opportunity right now to rethink and rebuild the fashion industry - "We all want to rebuild this industry that we love so much and leave behind the old habits that are out of date, or indeed, unsustainable."
🖐 Heads up part one is roughly 1,700 words.
---
The Next Era of Sustainable Fashion
Few will be surprised to hear that fashion is one of the most wasteful industries on earth. Yet, few of us really look at our closet and think "boy oh boy are you having a harmful impact on the planet and our climate". And yet we probably should.
We have been overbuying, we can't keep track of what we already have so we keep buy that which we don't need, we are tempted by fast-fashion because it's, well, everywhere… As a result, there has been a move towards more sustainable business models in fashion that could help lighten our fashion footprint. There are a few business models that come to mind:
👉 More reading on the topic:
---
The Death of Fast Fashion?
Retail sales reported a sharp fall in Q2 of 2020 - particularly 'fast fashion' clothing store sales. The business of 'fast fashion' has changed both the way consumers shop and how the clothes are produced, all in an attempt to offer trendy clothes at affordable prices, and as widely and fast as possible.
However, with these companies turning out a collection every other week, there are obvious problems to this model - poor quality clothing, produced by a system that exploits workers, poor labour conditions, hefty carbon footprint… and these are often the items most likely to end up in the 'to donate' pile - a model that is far from perfect.
It's worth noting that a large portion of clothes donated (in the USA, for example) actually end up being shipped elsewhere. This creates a situation where the basics of trade economy play out - importing is bad and exporting is good (obviously, extremely simplified here). If you take the example of Kenya, according to Elizabeth Cline, "On the one hand, tens of thousands of people work in the secondhand clothing industry there, so if you ban it, those jobs will be lost. But, on the other hand, one way Kenya could grow its economy is by building clothing factories and producing their own garments" rather than having to rely on importing these clothes from America.
Companies such as Wardrobe.NYC where "the idea is to buy less and buy better. Invest in pieces that you have for a really long time," are resonating with the sustainably-minded consumers. The duo behind this concept (Centenera and Goot) explain how they started Wardrobe as a response to the excessive consumption that we are all familiar with in fashion. The idea is simple; create staples that we keep coming back to (that 20% of your wardrobe) that will stand the test of time and do so at a reasonable price-point. Not that long ago, clothes were created with care, and mostly with quality and longevity in mind. Today, consumers are on the lookout for fashion brands that align with these new(ish) sustainable values.
👉 More reading on the topic:
---
Renting and the Sharing Economy
Jenn Hyman, CEO of Rent The Runway (RTR) once shared the story of the President of Neiman Marcus explaining that women have been renting from his stores for years. They are the same customers who buy 10 pairs of shoes from downstairs. It's safe to say that he understood what Hyman was created, for who and why it would work.
Hyman has often referred to RTR as "a closet in the cloud" - something that can be very appealing, specifically for those unique and special occasions. Women in general are charged more simply for being a woman and there is a certain pressure to look the part. So the idea of paying a monthly fee to rent clothes to bolster your wardrobe can be very appealing. Although, the pandemic might have changed that ever so slightly as we turn to those comfy sweatpants instead of the more formal attire.
COVID-19 has certainly impacted businesses such as RTR and it hasn't been an easy seven months. As Hyman puts it, "our entire business is based on people getting out of their pajamas and doing something, seeing someone," so if you are no longer leaving your house, you probably no longer need a subscription for new clothes and formal attire.
👉 More reading on the topic:
---
The Real Real and the Re-sale of Luxury
With over 14,000 stores expected to close their doors this year, it's interesting to note that luxury re-sale has been doing better than expected. Vestiaire Collective in the midst of a pandemic raised $64.2M for its platform
"In a bright spot during these difficult times, brands, shoppers and consignors alike are engaging in the circular economy," said Rati Levesque, COO and head of merchandising for The RealReal. "Gen Z, millennials and men are the new faces of luxury shopping, and the brands in tune with what they want are rising to the top."
Marketplaces such as Vestiaire Collective and The Real Real (TRR) boast some pretty impressive numbers. Vestiaire Collective has 9 million members across 90 countries. TRR has 17 million members and now has ten brick and mortar stores across the USA (each one more beautifully designed and curated than the last) and they are apparently adding over 5,000 pieces to their marketplace daily.
Both business models - renting/subscription models and re-sale - aren't new. Rather they have been rethought for the modern woman and man who are becoming more comfortable making transactions online and who are well-versed in the behaviors of the sharing economy.
👉 More reading on the topic:
---

---
🚀Follow me on 

Instagram

 and 

Twitter

 for extras that don't make the newsletter.