Discover more from Idée Fixe by Toni Cowan-Brown
A newsletter for the curious minds, and your weekly in-depth dive into the ideas that dominate our minds - both the delusional and the pedestrian. Each week I share insights on the ideas in tech, politics, pop culture and F1 that matter.
Over 1,000 subscribers
Idée fixe 4.2: Formula One
Part Two: What's more important - the driver or the car?
You are receiving this email because you are subscribed to this weekly newsletter. Thank you for being here, when really you could be in many other places. If you are new to Idée Fixe, welcome. I'm Toni Cowan-Brown and this is your weekly newsletter on the ideas that matter, and dominate our minds for a prolonged period.
If you have been sent this why not consider subscribing and get this delivered directly to your inbox. 👇
---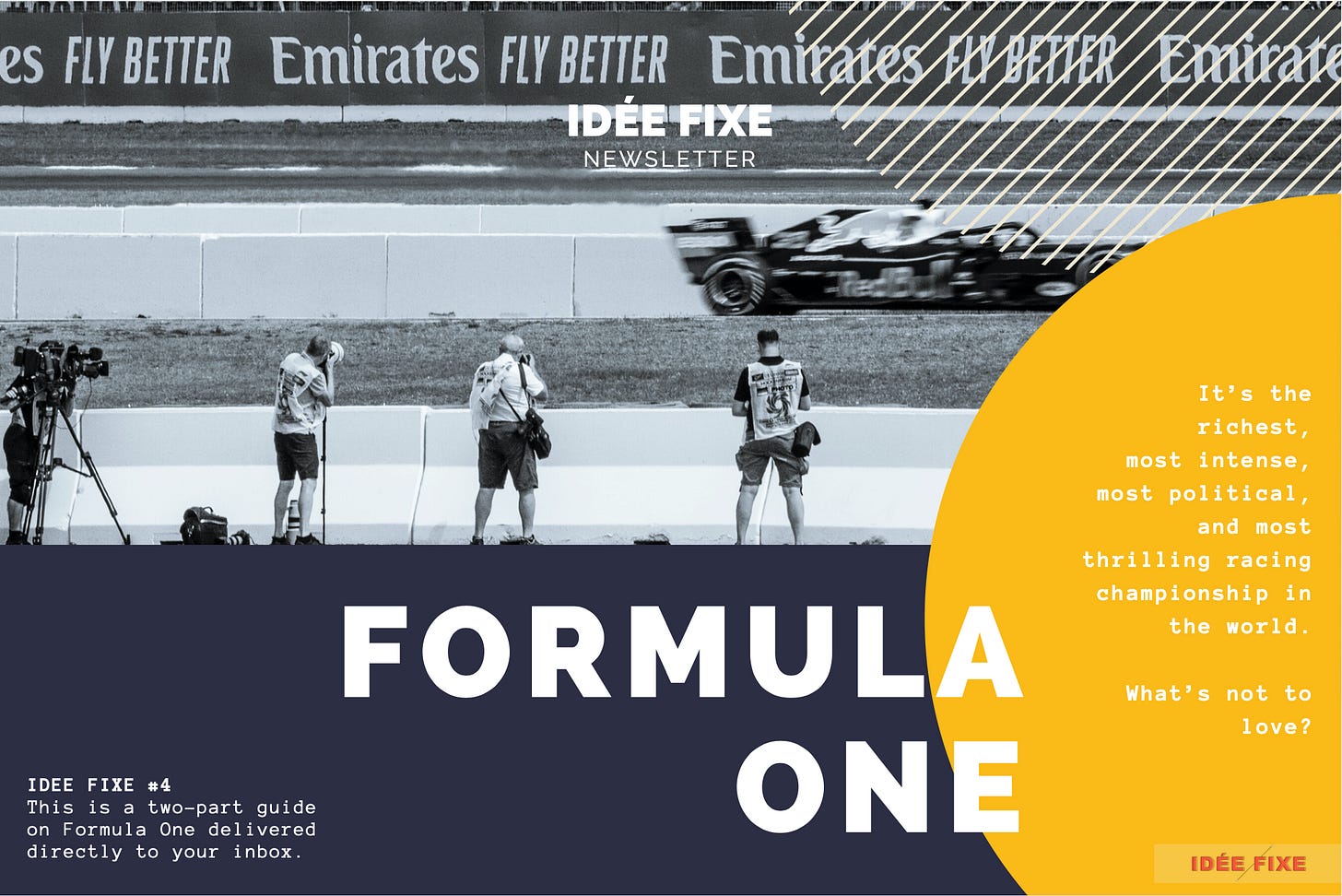 Idée Fixe #4: Formula One 🏎 🏁
This is my two-part guide into the exciting world of Formula One, and this is part two: Technology, Strategies and Fearless Drivers. This part should give you all the elements to understand your next F1 race and help you appreciate all the elements and strategies that come into play during (and beyond) a race. There will be a bonus piece early next week about the dark art of sponsorships in Formula One, and there are some pretty wild stories.
I already published part one: Let's Go Over The Basics so make sure to check it out if you haven't already.
🖐 Heads up part one is roughly 4,000 words and will take you approximately 15 minutes to read.
---
Part Two:
Technology, Strategies and Fearless Drivers.
The teams and the current driver lineup (2020 edition)

The car, the engine, and the tires

A typical F1 season

The race components (rules, flags, circuits)
---
Correction: In part one I mentioned the 2021 technical changes that were coming. However, due to the lockdown, it was announced in March of 2020 that these have actually been pushed back to 2022. How much of F1's development is frozen between 2020 and 2021?
The Teams Ranking and The Current Driver Lineup
The teams are divided up roughly into three categories: the best of the best all fighting for the championship (right now it's: Mercedes, Ferrari and Red Bull), the best of the rest (right now it's: Renault, McLaren, AlphaTauri and Racing point), the rest (right now it's: Alfa Romeo, Haas and Williams).
The latter two categories are what is known as the midfield or F1.5 which is often far more exciting than the fight for the championship. Anything can happen in the midfield and all bets are off.
Note: The Mercedes team earned the nickname Silver Arrows in 1934 when the Mercedes car was stripped of all its paint right down to its aluminum core to knock off as much weight and make the car as aerodynamic as possible. 💨
Engine: Mercedes, they make their own engine.

Licensed in: German 🇩🇪 with their first team entry in 1970.

Team principal: Toto Wolff

Constructor Championships: They have won the last 6 constructor championships (2014-2019).

Driver lineup 2020: Lewis Hamilton 🇬🇧( he has 6 championships under his belt and is the first and currently only Black driver in F1. He has been actively fighting for more diversity in F1. ) and Valterri Bottas 🇫🇮.

Additional facts: they are often seen as the favourites to win. Mercedes produces an all-around good car that is consistent with its results. They are continuously innovating and pushing others in the field to do better which is great for the sport as a whole.
Scuderia Ferrari

(aka. the red car or the

Prancing Horse)
Engine: Ferrari, they make their own engine.

Licensed in: Italy 🇮🇹 with their first team entry in 1950.

Team principal: Mattia Binotto

Constructor championships: They have won a total of 16 constructor championships. They are the only other constructor (alongside Mercedes) that have won the championship consecutively six times.

Driver lineup 2020: Sebastian Vettel 🇩🇪 and Charles Leclerc 🇲🇨. They used to have a primary and secondary driver but with Vettel leaving Ferrari at the end of the season we are likely to see some intra-team racing, which we will come to shortly. 

Additional facts: They are the most important team in F1 history, and founded by Enzo Ferrari. Michael Schumacher also created a lot of popularity around this team during his time with Ferrari during which time he won 5 World Championships (and is still the only driver to have won 7 championships in total). Lately, they have been having trouble finding an identity beyond Schumacher but they seem to be writing a new chapter with the likes of young drivers such as Charles Leclerc.
Official name: Aston Martin Red Bull racing

Engine: Honda engine (we saw a remarkably smooth transition from the Renault engine in 2019).

Licensed in: Austria 🇦🇹 with their first team entry in 1997.

Team principal: Christian Horner (fun fact: he is married to Gerry Holloway, aka. Ginger Spice)

Constructor championships: They have won the constructor championship 4 times (consecutively between 2010 and 2013).

Driver lineup 2020: They have two young drivers with Max Verstappen 🇳🇱 (who became the youngest driver to compete in Formula One) and Alexander Albon 🇹🇭.
Renault F1 Team

(aka.

the people's car which is referring to the fact that it is partly owned by the French state)
Engine: Renault, they make their own engine. They used to supply the engine to Red Bull (not anymore), and still supply engines to McLaren.

Licensed in: France 🇫🇷 with their first team entry in 1986.

Team principal: Cyril Abiteboul

Constructor championships: They have won the constructor championship twice in 2005 and 2006.

Driver lineup 2020: Daniel Ricciardo 🇦🇺 and Esteban Ocon 🇫🇷.
Engine: Renault engine.

Licensed in: United Kingdom 🇬🇧with their first team entry in 1966.

Team principal: Andreas Seidl

Constructor championships: They have won the constructor championship 8 times, and the last time was in 1998.

Driver lineup 2020: Carlos Sainz 🇪🇸 and Lando Norris 🇬🇧(has the dual nationality British-Belgian but competes under the British flag).

Additional facts: McLaren have had a long history in F1 and currently have one of the most egoless, down to earth and honest team.
Engine: Honda engine.

Licensed in: Italy 🇮🇹 with their first team entry in 1985.

Team principal: Franz Tost

Constructor championships: They have yet to win the constructor championship.

Driver lineup 2020: Daniil Kvyat 🇷🇺 and Pierre Gasly 🇫🇷 (he was 'promoted' to Red Bull Racing from this team, only to be 'demoted' mid-season. He responded to his return with a spectacular podium win in Brazil).

Additional facts: AlphaTauri serves as the RnD team for Red Bull Racing. It's no longer seen as the junior team, but rather the sister team to Red Bull Racing - both teams are owned by the same entity.
Racing Point F1 Team
(aka. the pink Mercedes or
pink panthers
)
Engine: BWT Mercedes (this year's car looked almost identical to last year's Mercedes)

Licensed in: United Kingdom 🇬🇧

Team principal: Otmar Szafnauer (USA)

Constructor championships: They have yet to win the constructor championship.

Driver lineup 2020: Sergio Perez 🇲🇽 and Lance Stroll 🇨🇦(he has yet to prove he would be an F1 driver if it weren't for his dad - otherwise known as a pay driver which is harsh but accurate).

Additional facts: The team is now under new owners (the ex-CEO was embroiled in a lot of financial and political scandals) and hopefully the slow recovery they had in 2019 is over. The new owner is Lawrence Stroll (father of Lance Stroll) who is a finance guy with a specialty in acquisitions. The team is now better funded than it has ever been.
Engine: Ferrari (and they buy other pieces from Ferrari too)

Licensed in: Switzerland 🇨🇭with their first team entry in 1993.

Team principal: Frédéric Vasseur

Constructor championships: They have yet to win the constructor championship.

Driver lineup 2020: Kimi Raikkonen 🇫🇮(famous for what many call his lack of personality which he has somehow turned into an asset making him quite marketable) and Antonio Giovinazzi 🇮🇹.
Haas F1 Team
(aka. the American underdog)
Engine: Ferrari (and buy as much as they can from Ferrari).

Licensed in: United States 🇺🇸 with their first team entry in 2016.

Team principal: Guenther Steiner

Constructor championships: They have yet to win the constructor championship.

Driver lineup 2020: Kevin Magnussen 🇩🇰 and Romain Grosjean 🇫🇷.

Additional facts: They are the youngest team on the grin and the only American team in Formula One and have a lot to prove. They have had quite an incredible journey and some early successes, although, 2019 was a really bad year for this team, and were only saved by Williams.
Engine: Mercedes

Licensed in: United Kingdom 🇬🇧with their first team entry in 1978.

Team principal: Claire Williams (Frank Williams)

Constructor championships: They have won the constructor championship 8 times, and the last time was in 1997.

Driver lineup 2020: George Russel 🇬🇧 and Nicholas Latifi 🇨🇦 (who has raced in nearly all disciplines).

Additional facts: Williams has a rich F1 history, sadly 2019 was a horrible year for them learning only a single point over 21 races. They are up for sale this year (2020). Why the once mighty Williams F1 team is up for sale?
Note: The FIA's International Sporting Code states that the F1 teams competing in the FIA Formula One World Championship will compete under the nationality of their parent National Automobile Club that issued their FIA racing licence.
The 2020 lineup of drivers is the youngest the sport has had since the 50s (more than half are 25 years or younger). During last year's Austrian Grand Prix, we had the youngest front row in F1 history with Charles Leclerc and Max Verstappen. Similarly to Gymnastics, over the year we have seen the F1 drivers get younger and younger which is not always what's best for the sport nor for the drivers themselves.
That being said, they are a great cast of characters: they are driven, competitive and very complex. And 2020, is set to bring us some headline-grabbing rivalries.
Competition between teammates is fierce, mostly because you are directly measured against each other. Unlike the other 18 drivers in the race, your teammate has exactly the same equipment and car as you, so it comes down to pure raw talent. Some teams have clear n.1 and n.2, and others don't. During some races, teammates are allowed to race each other and other times they aren't - not that they always do as they are told which makes for great TV.
"If you no longer go for the gap that exists you are no longer a driver" says Ayrton Senna, regarded as one of the greatest Formula One drivers of all time.
---
The Car, The Engine and The Tires
The Car
Although Formula One cars may look the same, they are very different and unique in their own way. Each team is trying to develop the best car possible for their drivers and obviously the more money you have to spend, the better your car is likely to be. And these days the cars are more tech than machine. However, the budget cap should help level the playing field in the coming years.
What's the difference between a constructors team and a works team?
A constructors team (or constructor) is a team that builds its own car but they will purchase their engine from a supplier. Each team must at a minimum build its own car thus they are all constructors.
A works team is a team that builds both its own car (e.g. its chassis) and engine. More often than not, they are large car manufacturers that have entered F1 with both a team and an engine program.
🏆 As such, every year, there is also the Formula One World Constructor Championship.
The Engine
When it comes to the engine, the most important characteristic for it to have is reliability. Teams are allowed to have three engines for the entire season, after that they start getting penalties.
As mentioned above, some teams make their own engines (and sell to other teams) such as Mercedes, Renault, and Ferrari. Interestingly Red Bull and AlphaTauri buy their engine from Honda which doesn't have an F1 team but makes F1 engines which is somewhat unusual and makes for great marketing and PR, just like Red Bull is that energy drink that also has an F1 team.
The Tires
Although, the F1 drivers make it looks effortless, overtaking in Formula One is extremely difficult and tires are a huge component to this maneuver. When the aerodynamics fail it's all on the tires and they can be quite inconsistent.
The main challenge that happens to tires is something called blistering which is when the tire begins to strip itself apart and leaves marbles everywhere on the track which becomes slippery as hell for any driver. The biggest decider in tire choice is the weather - especially the rain.
Slick tires: "It strikes a very good balance between performance and durability, with the accent on performance. It's a very adaptable tire that can be used as the softest compound at a high-severity track as well as the hardest compound at a low-severity track or street circuit."

Wet tires: within the wet tire category you have the intermediate green which are "the most versatile of the rain tires. They can be used on a wet track with no standing water, as well as a drying surface" and the full wet blue tires "are the most effective solution for heavy rain" according to the official Pirelli website. Pirelli is currently the sole tire supplier for Formula One.
---
A Typical F1 Season and The Races
A typical season in Formula is set out as follows (although, worth noting that there is nothing typical about this year's F1 season):
Pre-season testing: you only have 8 days to test your car to see what works and what doesn't, and fix whatever isn't working. 

The first race of the year: In 2020, the first race was supposed to take place in Australia. Instead, the first race (post-COVID-19) will take place on 3-5 July in Austria. The first race traditionally kicks-off the season.

Race weekends: In F1, you have a full weekend programme.
As for race weekends, they are typically set out as follows:
Free practice sessions (do what you want) on Friday and Saturday (Thursday in Monaco). This time is used by the teams to check everything is working and get the right set-up. After practice, no more big adjustments are made

1 qualifying session which will determine the line-up for the start of the race.

The actual race which kicks off with the formation lap (also known as the parade lap or a warm-up lap) which was introduced in 1978 and is the lap before the actual race begins in which all drivers go around at a slow speed.
What are the reasons for this formation lap?
The formation lap is when the drivers get themselves onto their starting spot on the grid. They are not supposed to be put there by the crew and need to position themselves on their own and with no assistance (1). During this lap, they can warm up their tires, as they have probably been sitting still for a solid 10-15 minutes with the engine off so as well as warming the tires it gets the engines going - quite literally (2). Finally, this is also the opportunity to test the track sensors with each car - these are the sensors that detect the precise moment a car passes it by (3).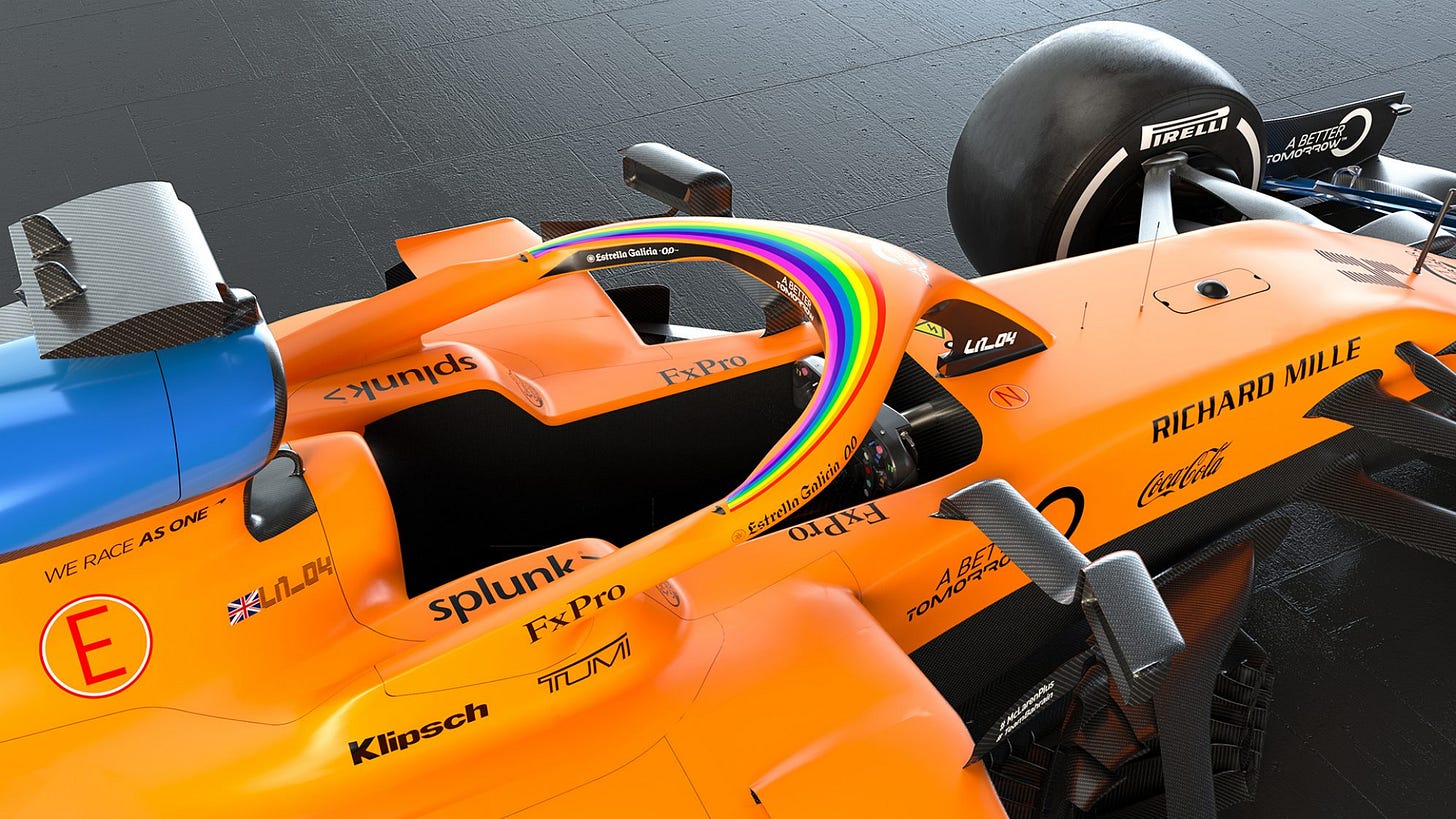 ---
The Race Components
The F1 field is usually comprised of one team looking to consolidate their position at the top, and nine teams (each with two drivers) behind playing catch-up.
The aim is always to get as many points as possible. These points are added up and at the end of the season, they determine who is World Champion. Only the top 10 spots are allocated points which is why the mid-field is so competitive. Imagine doing all this preparation and work and doing a two-hour race (sometimes in brutal conditions) to get zero points.
Very simply, points are awarded to drivers based on where they finish in a race. The winner (first place) receives 25 points, the second-place finisher 18 points, with 15, 12, 10, 8, 6, 4, 2 and 1 points for positions 3 through 10. If you finish the race in positions 11 through 20, or if you crash (and don't finish) - you do not get awarded any points. One additional point is awarded to the driver and team with the fastest lap of the race, but only if they finish in the top 10 positions.
A few things to know about F1 races and the circuits:
They are measured in laps and can't exceed two hours in length;

There are around 20 races within a season (most of them take place during the day but some, such as Singapore, take place at night due to the high temperatures);

There is a European chapter (Austria, Hungarian, Belgian, Britain, Italy) followed by the newer tracks chapter (Singapore, Sochi, Japan, Texas, Mexico, Brazil, Abu Dhabi - day to night race)

There are three types of circuits - street circuits such as Monaco and Singapore, hybrid circuits such as Australia, and purpose-built circuits such as Bahrain.
The basic rules of F1 racing
🏁 Flags: Traditionally used in most auto-racing sports. They are one of the main means of communicating important messages in a succinct and visible way with the driver.
Yellow flag: signals to slow down and pay attention (caution).

Green flag: signals go-ahead and indicates the formation lap.

Red flag: signals that the session has stopped because of imminent danger.

Blue flag: signals when a car is lapping another car (i.e. when the faster cars are catching up the slowest cars).

Black flag: signals that the driver has been disqualified as a result of a dangerous act putting others in jeopardy. It is very rare to see a black flag as you don't get to become an F1 driver by being reckless and dangerous on the circuits.

Chequered flag: now this is what you are aiming for. It signals that the session is complete.
🎧 Communications
Typically, drivers only communicate with their race engineer in order to keep the communication as clean and efficient as possible. However, other team members (those that you can see on the pit wall) including team owners, technical engineers and the team principal can usually hear the communication but would typically not talk as it could get very confusing and stressful for the drivers.
🚘 Safety car vs. the virtual safety car (VSC)
Nowadays when a crash happens or an event occurs that requires the safety car to be deployed, you have the option of deploying either the physical car of the virtual safety car (VSC). There are pros and cons to deploying either, and the team strategy could (and should) shift depending on which one gets deployed.
Safety car: creates a train of cars to shepherd them at medium pace while the issue is being sorted. It's not an easy job as you need to drive as fast as possible so that the F1 drivers can keep their tires warm but not too fast as there is obviously a reason the car was deployed in the first place. I personally always enjoy heading the drivers scream "can they go any slower?" - the answer is most certainly yes they can.
Virtual safety car (VSC): ensures all cars slow down without the need for the actual safety car. It's like hitting slow motion on all the cars. What's actually happening is that the drivers have to reduce their speed so that the average lap time is roughly 30% slower than what the FIA would consider a standard racing lap and through each section of the track (not just overall). The racers have to follow this speed limit just like they would if a safety car would control their speed. If you are interested in understanding fully how the virtual safety car work, this video will do the trick. It is quite fascinating actually.
💨 DRS and Sectors
Drag Reduction System rear wings allow the driver to adjust the wing between two pre-determined settings from the cockpit. The system's availability is electronically governed - it can be used at any time in practice and qualifying (unless a driver is on wet-weather tires), but during the race can only be activated when a driver is less than one second behind another car at pre-determined points on the track. The system is then deactivated once the driver brakes. It's designed to boost overtaking. (see F1 Lexicon)
Circuits are divided into sectors for timing purposes. In other words, each lap is split into three sections (roughly representing each one-third of the lap). These sections are officially known as Sector 1, Sector 2 and Sector 3. This also helps the race engineers communicate more accurately and succinctly with the drivers when, for example, they need to point out that there might be some debris in Sector 1.
🌧 The Rain
You will hear many say that rain is the great equalizer in F1, and you will hear the excitement in the commentators' voice when it starts to rain during a race. As such, rain, funnily enough, has become a big component in Formula One racing.
The basic strategies of F1 racing
Formula One is a sport of strategy. The drivers are the best in their field and as such races are won more or less based on the decisions the team makes and how drivers react to the race happening around them. It's about making the right choices at the right time which is mostly what differentiate the greats like Hamilton, Schumacher and Senna, to name just a few, from the rest. They are constantly having to react to all the elements happening around them - grid position, potential crashes that arise and subsequent safety cars (or VSC), weather (especially rain), Pit Stops…
So The teams aren't entirely in control of their own destiny. It's mostly about knowing where you stand in comparison to the rest of the field.
Defensive driving: There is no doubt that defensive driving is an absolute art and some drivers stand-out as incredible defensive drivers such as Verstappen. There are a few rules such as no surprises in the braking zone which is the zone just before a corner and at this point you should really be committed to your chosen trajectory - changing course could be dangerous. You need to accept and even embrace that you are not alone on the track and take note of where the other drivers are - basically don't pretend they are not there and be aware of your surroundings. And avoid driving erratically.
Article 20.3, 2012 Formula One Sporting Regulations, states the following: "More than one change of direction to defend a position is not permitted. Any driver moving back towards the racing line, having earlier defended his position off‐line, should leave at least one car width between his own car and the edge of the track on the approach to the corner."
Overtaking: DRS (as mentioned above) is one of the main measures that has been introduced into Formula One to help increase overtaking opportunities. Some circuits, like Monaco, as not wide at all making it close to impossible to overtake and offering very few opportunities for overtaking. During this race, your position on the grid is exponentially more important. Some drivers, like Ricciardo as known to be incredible overtakers.
Pit stop strategy (tires and fuel): You will often hear people talk about the one pit vs. two pit strategy which refers to the number of times they plan on having the car come into the pit lane to change the tires. As you can imagine this strategy is greatly influenced by tire choices. It's also during the pit stops that the team will change any pieces that might be broken or in need of changing, such as the front wing.
The pit stop can be one of the most exciting parts of the race where anything can happen and so much can go wrong. Ever wondered what you could possibly achieve in 2 seconds (not minutes, seconds)? Well, look no further. You generally want your pit stop to be under 2 seconds but it's not uncommon for things to go horribly wrong and see a driver sit in their pit stop for a minute which in F1 is an absolute lifetime. At this moment you are either silent hanging off of your seat or screaming.
The pit stop strategy is also played out vis-a-vis the other drivers and you will see during races, drivers having to react to the first pit stops being done. For example, there can be a play to pit at the same time as one of your direct competition in order to keep them stationary a little longer than they would like in the pit lane, and in doing so slowing down their pit change.
Voilà, that's all I for you this week and it feels like more than enough to get your going and help you enjoy your first or next Formula One race.
🗓 The F1 2020 schedule.
👋 Read part three: The bizarre world of F1 sponsorships and big tobacco (bonus piece)
---
👉 Download your beginners' F1 Lexicon here.
👉 Download your cheat sheet of drivers and teams for the 2020 season.
---
Resources
Formula 1 official website
F1 2020 season preview
W Series official website
ESPN F1
2020 Spotter guide
Basics of F1 strategy
Shift + F1 (great podcast and blog) 
Chain Bear: Motorsports Explained (YouTube channel) 
The dark underworld of F1 sponsorships (YouTube video)