Discover more from Idée Fixe by Toni Cowan-Brown
A newsletter for the curious minds, and your weekly in-depth dive into the ideas that dominate our minds - both the delusional and the pedestrian. Each week I share insights on the ideas in tech, politics, pop culture and F1 that matter.
Over 1,000 subscribers
Idée fixe 4.1: Formula One
Part one: Let's Go Over The Basics 🏎
You are receiving this email because you subscribed to this weekly newsletter. Thank you for being here, when really you could be in many other places. If you are new to Idée Fixe, welcome. I'm Toni Cowan-Brown and this is your weekly newsletter on the ideas that matter, and dominate our minds for a prolonged period.
---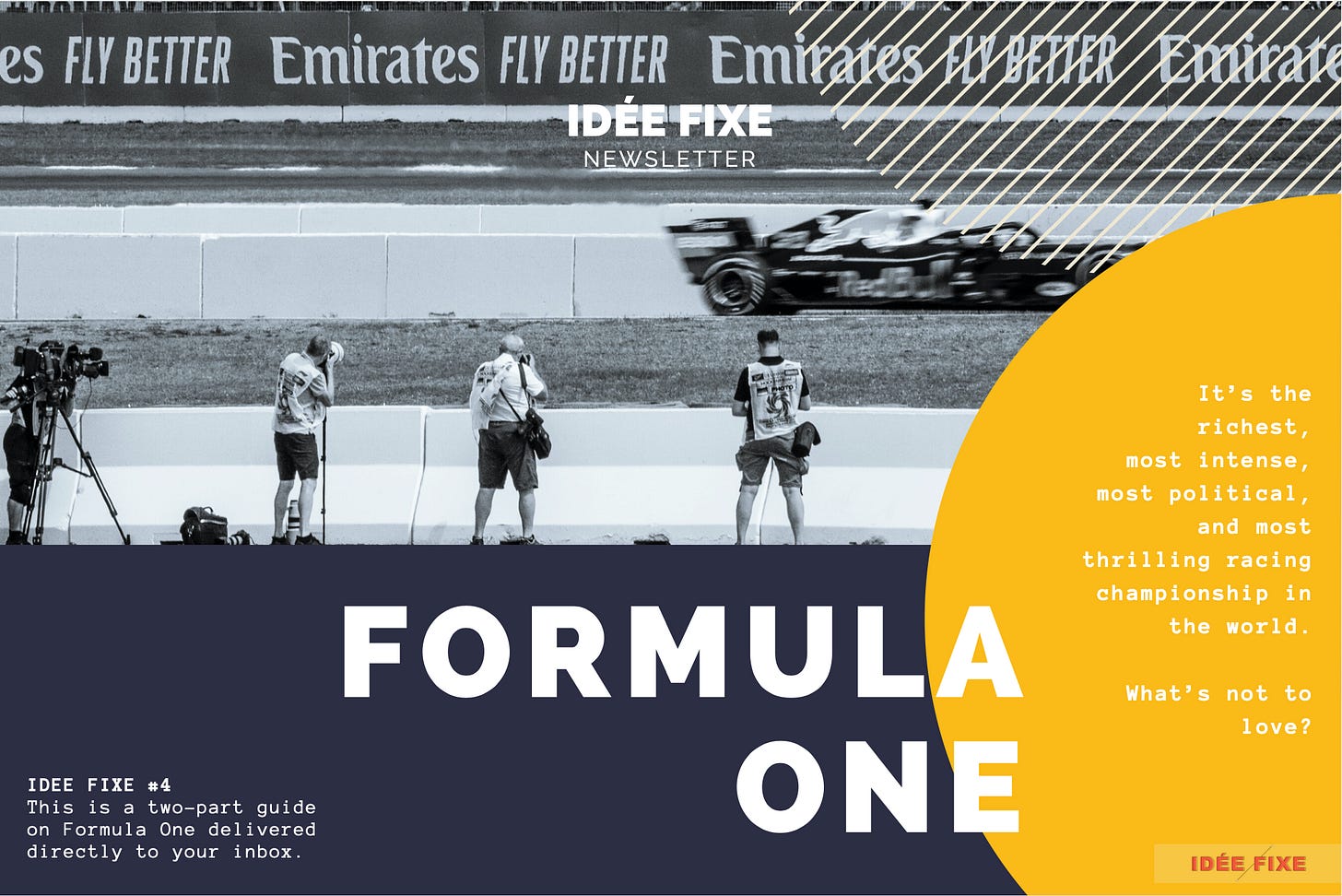 Idée Fixe #4: Formula One 🏎 🏁
This is my two-part guide into the exciting world of Formula One, and this is part one: The Basics and The History of Formula One. With the 2020 season finally kicking off on 3 July and having received a few requests to break down F1 for you, now feels like as good a time as any.
🖐 Heads up part one is roughly 2,500 words and will take you approximately 9 minutes to read.
---
Part one: Let's Go Over The Basics
Formula One: Equal Parts Art and Science

The Feeder Formulas Explained (F2, F3 and the W Series)

Brief History of Formula One

The 2020 Season: here's what you need to know

Your F1 Lexicon (to download)
👉 Download your beginners' F1 Lexicon here.
---
Formula One: Equal Parts Art and Science
Formula One, also called Formula 1 or F1 is the highest level of professional single-seat motor racing sport internationally. It is governed and sanctioned by a global body called the FIA − Fédération Internationale de l'Automobile (which translates to the International Automobile Federation).
Formula One implies that this is the ultimate in formula racing and 'Formula' comes from the set of rules that the participating cars and drivers must follow.
Why I love this Sport?
F1 represents the technological pinnacle of all motorsport - only the very best get to be a part of it. There is far more to it than meets the eye: the political permutations are endless, the back-door dealings are more common than what you will find on Capitol Hill, your teammate is also your biggest competition, there are only 20 seats available at any given time and it's an incredible combination of the best man or woman, the best car and technology and the smartest strategy.
It's also the richest, most intense, most political, and most thrilling racing championship in the world. Seriously, what's not to love?
The Feeder Formulas Explained
In Europe, you have feeder formulas that help team owners, designers, engineers, and drivers… work on their skills with the ultimate goal to get into F1. The very best in the industry aspire to be here, right at the top. And if that wasn't enough, once they are there, they aspire to become a World Champion.
The Super Licence: In order to compete in F1, drivers need a Super Licence, and the road to it has evolved and changed over the years. Today, to qualify, you need to fulfill the following criteria: be 18 years of age (1), hold an International Grade A competition licence (2), hold a valid road driving licence for the country listed as the driver's nationality (3), you need to pass the FIA theory test on knowledge of the F1 sporting codes and regulations (4), you need to complete at least 80% of each of two full seasons of any of the single-seater Championships (5), have accumulated at least 40 points over the previous three seasons in any combination of the championships mentioned in the rules (6).
Note: With these current criteria, some drivers like the young Max Verstappen wouldn't have been eligible to compete in F1.
Formula Three: also called Formula 3 or F3. It's the third-tier class of open-wheel formula racing. It has been traditionally regarded as the first tangible step for many prospective F1 drivers which is the ultimate goal. It's the tipping point in a driver's career where they go from being an amateur to being a professional racer. Success in Formula 3 can lead to a Formula 2 seat which brings you one final step closer to the ultimate goal.
Formula Two: also called F2 and previously known as Formula 3000. For most of history, Formula Two has represented "the penultimate step on the motorsport ladder". If you want to get a sense of who are the newcomers who have the potential of replacing existing F1 drivers, look no further than the Formula Two races. Although far less popular, they are just as exciting to watch.
A brief history of Formula One
Formula One racing originated during the 1920-30s in Europe and in 1946, the FIA standardized racing rules which in turn formed the basis of F1 racing. The inaugural F1 World Drivers' championship was then held in 1950, otherwise known as the first world championship series.
📺Netflix has a great documentary on Fangio, regarded as one of the greatest Formula One drivers, which is well worth watching if you want to get a sense of F1's history. He dominated the first decade of F1  racing when the sport and the cars looked very different, and he went on to win the World Drivers' Championship five times. What we wouldn't give to be able to watch him race in today's cars and with today's technology.
Why are there so few women in F1?
Although I love this sport, it's no secret that it lacks diversity - something that Lewis Hamilton has been very vocal about. As a woman, I have often questioned why there have been so few women to ever compete in F1. In the 60+ years the World Championship has existed, only five women have entered a Grand Prix compared to the 800+ men in the same period, and most of the women didn't qualify.
Just like with most industries, the biggest barrier is that these young girls and women don't have any female role models to look up to in the first place and lack the opportunity to showcase their skills.
This is where the new W Series comes in. Introduced in October 2018, the main aim of the organisation is to lower the barrier of entry for female single-seater racers.
"W Series is a unique ground-breaking free-to-enter single-seater motor racing series for women drivers only […]. At the heart of W Series' DNA is the firm belief that women can compete equally with men in motorsport. However, an all-female series is essential in order to force greater female participation. W Series is therefore a mission-driven competition, the aim of which is to equip its drivers with the experience and expertise with which they may progress their careers, racing and honing their skills in W Series before eventually graduating to existing high-level mainstream racing series."
The key difference with F1 is that every single driver will be driving the same exact car so it's purely based on the talent of the divers. This can be seen as another feeder in F1.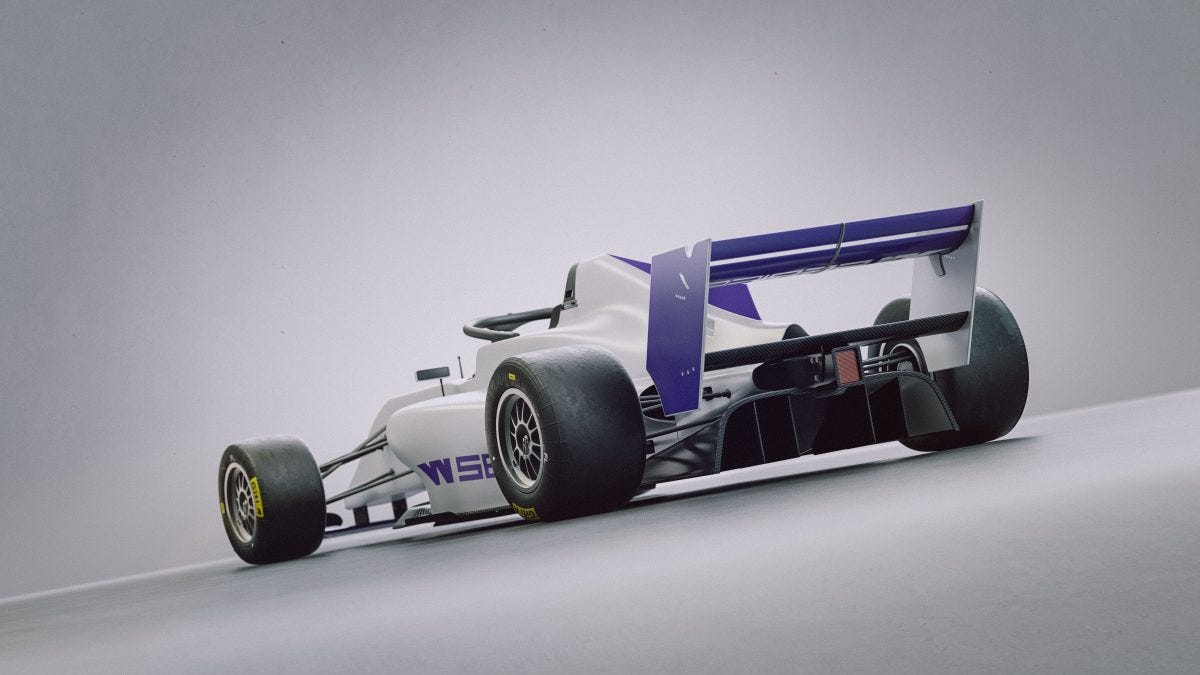 ---
The 2020 Season Is (Finally) kicking off
Like with all other sports, F1 found itself on pause for the first half of 2020 due to COVID-19. That being said, F1 will resume with its first race of the season in Austria (sans fans) on 3-5 July. The agenda for 2020 is slowly coming together.
This 2020 season will be unique in many ways and will offer some key challenges according to Toto Wolff, Mercedes Team Principal:
"reliability is going to be a fundamental part of the opening races. The cars have come out of the container straight from Australia. There is not a lot of time for them on the dynos. We will be using every session to learn."
---
Themes for The 2020 Season
From the outset, 2020 can feel like a 'lost' year for F1 . However, it's actually turning out to be just as packed with drama, uncertainty than any other year and should be full of many first; COVID-19 hit hard which has forced the whole industry into an unexpected lockdown, 2020 is the last year of unregulated funding with a new set of financial regulations coming for 2021, and the majority of the drivers are out of contract (and the game of musical chairs is well underway).
🍾 In addition, there are 8 records that could potentially be broken this year (many by Lewis Hamilton).
Can anyone challenge Lewis Hamilton?
Max Verstappen (Red Bull) appears to have overtaken Scuderia Ferrari (and Charles Leclerc) as the team most likely to threaten Hamilton's bid for a seventh title. With Verstappen, Red Bull has undoubtedly one of the most exciting talents of his generation.
"It's easier to chase than it is to lead" Lewis Hamilton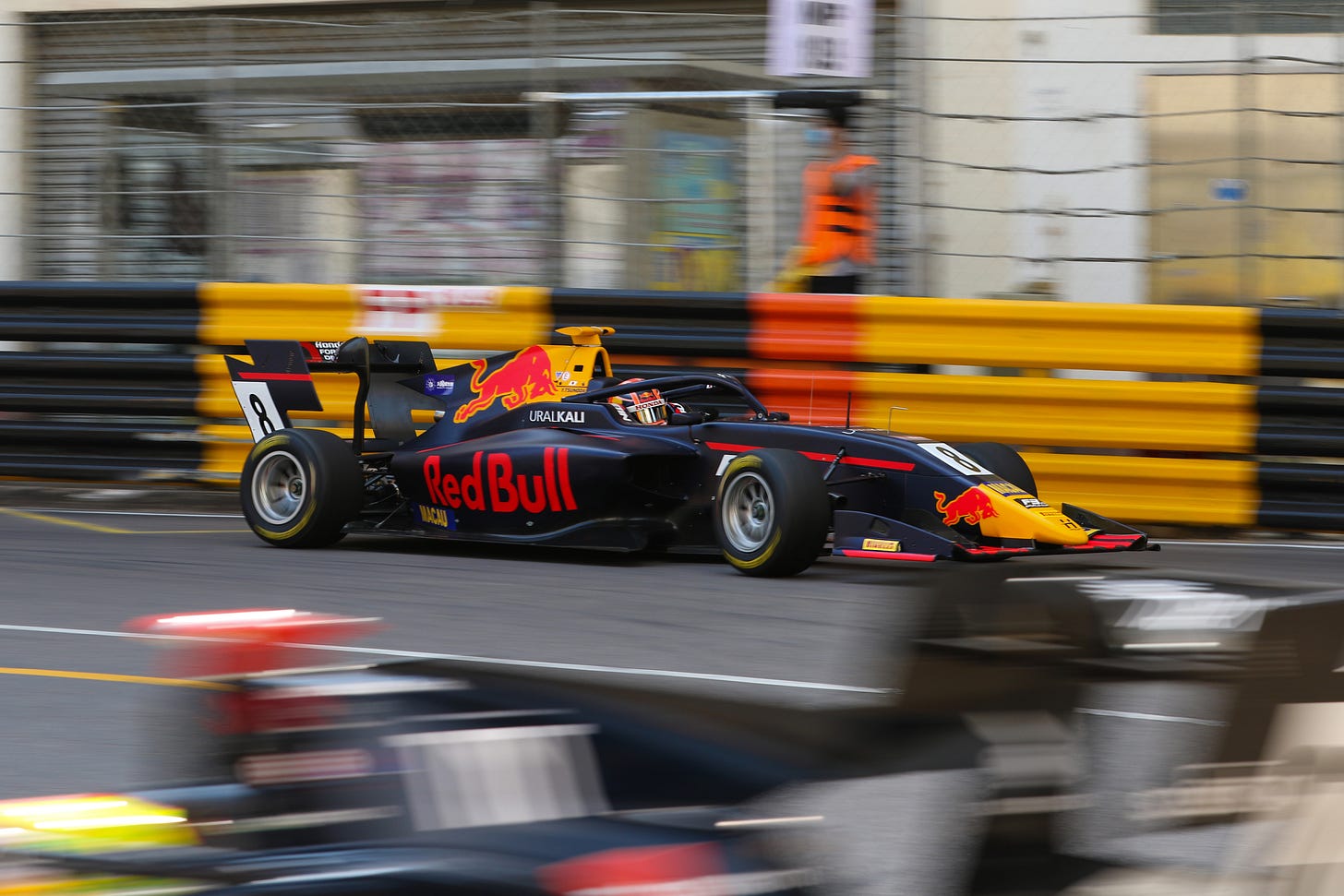 Who's Likely going to be the Best of the Rest?
In recent years, F1 has been split into two classes - the top three fighting to get on the podium and the midfield fight, sometimes called Formula 1.5. The latter is arguably more competitive and sometimes far more exciting than the actual battle for the championship as they are all trying to collect points. (Note: I'll walk you through the points system in part two)
There is an abundance of cut-throat rivalry in the midfield and the names that come up, again and again, are McLaren, Renault, Racing Point and Haas. Anything can happen in the midfield.
2021 driver market (see how the driver line-up is shaping up thus far)
The departure of Sebastian Vettel from Scuderia Ferrari after six seasons created an almost instantaneous ripple effect as his departure opened up a stop on the highly coveted team.
The departure came as a big surprise to many especially as both Verstappen (Red Bull) and Leclerc (Scuderia Ferrari) had signed new deals/extensions which limited the possibility of unexpected driver movement between these two top teams. Or so we thought.
⏱ Here is what we know so far for the 2021 lineup:
Carlos Sainz is to race with Scuderia Ferrari (Sainz is replacing the four-time champion, Sebastian Vettel).

Ferrari team lineup is confirmed for 2021: Charles Leclerc (contract extension with a five-year deal until 2024) and Carlos Sainz (as the agreed number two)

Daniel Ricciardo to go to McLaren (he had initially turned down McLaren in favour of Renault two years ago where he currently is.)

Mclaren Lineup is confirmed for 2021: Lando Norriss (contract extension) and Daniel Ricciardo (signed a two-year contract and apparently has taken a pretty big pay cut).

Renault now has an open seat (with Ricciardo going to McLaren). Does this mean we might see the return of Fernando Alonso? As a reminder, Alonso left F1 as a driver at the end of the 2018 season.

Renault team lineup: Esteban Ocon and ❓ (There are speculations that this could be either Vettel or Alonso).

💥Update: on July 8, Renault and Alonso confirmed that he would be joining the Renault F1 team for the 2021 season. So what does this now mean for Vettel?

At Red Bull Honda, Max Verstappen confirmed a contract extension (with a three-year extension until 2023). His teammate, Alex Albon is out of contract and his place hasn't yet been confirmed. There are speculations that Daniil Kvyat (currently at AlphaTauri) could be in the running for a Red Bull promotion.

Red Bull Honda lineup: Max Verstappen and ❓

At Mercedes, both Lewis Hamilton and Valterri Bottas are both out of contract in 2021 and their seats haven't yet been confirmed. Hamilton remaining at Mercedes is the most likely outcome with Ferrari confirming their lineup.

Although Toto Wolff, Mercedes' team Principal, has mentioned that they must take Vettel's availability into consideration. But a pairing of Hamilton and Vettel would undoubtedly shake things up, a lot, and these two drivers would definitely be racing each other which is ultimately a strategic choice to make. It's somewhat obvious that Vettel wasn't too happy being number two to Leclerc at Scuderia Ferrari so why would he join Mercedes to be number two to Hamilton - and is that even possible?

Mercedes lineup: ❓ and ❓Honestly at this point it's anyone's guess, although it is fairly likely Hamilton will stay where he is.

Sergio Perez announced he would be sticking with Racing Point (rebranded Aston Martin Racing) for another two years. Lance Stroll isn't signed beyond 2020 but will most likely remain where he is as his father is a heavy investor in Racing Point.

Aston Martin Racing lineup: Sergio Perez and Lance Stroll (to be confirmed)

With Gasly, Kvyat and Albon all in the frame for the Red Bull drive in 2021, the pair that misses out may just stay put with AlphaTauri.

AlphaTauri lineup: unsure yet and too early to say.

Alfa Romeo lineup: Both Kimi Räikkönen and Antonio Giovinazzi's contracts expire at the end of the 2020 season but don't count out either staying put.

Haas lineup: Romain Grosjean and Kevin Magnussen are out of contract at the end of the year.

Williams lineup: George Rusell has a contract with Williams runs until the end of the 2021 season. The new team-mate, Nicholas Latifi, brings significant funding with him to the Williams team, something that will no doubt work in his favour.
👉 The current 2020 driver lineup. I'll be explaining the teams and driver set-up in part two.
---
Looking Ahead To 2021-2022
Rule changes in 2022
Correction: Although the introduction of these technical rules was initially planned for 2021 they have been delayed to 2022 and the 2020 rules will be carried over into 2021. This was unanimously agreed by F1, the FIA, and all ten teams. This will undoubtedly raise some challenges for some of the teams.
We have been told that "the fans were central to the decision-making" for the 2021 rule changes. And the F1 rule-makers firmly believe fans will be the biggest beneficiaries of the below changes.
The hope obviously is that these changes will increase the intensity of the competition fostering closer racing, create a more level playing field (which has always been one of the big complaints about F1 - those with the most money have a huge advantage), and will offer more exciting racing.
💰There will be a spending limit creating fairer finances
It's no secret that if you want to win in F1 you need money and lots of it. Since Scuderia Ferrari and Mercedes can easily outspend the likes of Williams and Haas, these teams naturally have an advantage.
For the first time ever, F1 is introducing spending limits - The teams' spending on the car will be limited to $175 million per year. That cap is separate from a team's budget for things like driver salaries, marketing, and transportation. Although the technical changes have been postponed until 2022, the budget cap will still come into force in 2021 as initially planned.
💨 Less time in the wind tunnel
Teams will also get less time to test their designs in wind tunnels. The new rules call for a maximum of 400 wind-tunnel runs per season, and that number will drop to 320 in years following.
Currently, wind-tunnel testing is unrestricted, allowing the teams with the highest budgets to take as much advantage as possible and optimise their car's aerodynamics for any given track. In 2021, the teams will have to rely more on their Computational Fluid Dynamics simulations to get their designs right.
🏁 Race weekends will look different
Starting in 2021, the rules around race weekends get stricter. Teams can no longer fly in new parts at the last minute, the car they present on Friday morning to the scrutineers must be the car they end up racing with.
In addition, all teams must run at least two practice sessions during the year using drivers who have completed two Grands Prix or fewer – giving more chances for the next generation to shine.
🏎 The cars will look different
"2021 F1 cars will have a radical new design philosophy and striking new look - with sweeping bodywork, simplified front wings, bigger rear wings, increased underbody aerodynamics, wheel wake control devices, simplified suspension and low-profile tyres with 18-inch rims."
Looks aside, this won't just make the cars look better, it will allow the cars to race even closer together which will make the race that much more exciting. 
"Cars will be able to follow each other more closely, so it stands to reason that we will see more overtaking. But just as importantly, we will see more battles – and that doesn't just mean overtaking, but defensive driving skills too."
The new tires will be low-profile tires (18-inch wheels) as opposed to the high-profile tires currently being used (13-inch wheels) which have been used for nearly 25 years. The 'old' tires have a tendency to move around and deflect a lot, which has an impact on the aerodynamics of the car. The switch is driven in part by aesthetics but these new lower-profile tires will also bring the F1 cars lower to the road and will help teams with fewer resources "more accurately simulate the impact of tire behaviour on aerodynamics."
Pirelli has an exclusivity contract with F1 and is the sole tire supplier at least until 2023. Pirelli has been the main tire supplied for F1 since 2011 but it wasn't always them. Being a Formula 1 Tire Supplier Takes Far More Than You Ever Imagined.
👉 More of the new 2021 rules explained here.
---
Formula 1 Lexicon and Slang
🎬 If you haven't already one of the best ways to get into F1 is to watch the Netflix Documentary on the matter - Formula 1: Drive to Survive. It's a great way to get a feel for the sport as well as a fun introduction to all the strategies involved in racing.
👉 Finally, you can download your beginners' F1 Lexicon here.
👋 Read part two: Technology, Strategies and Fearless Drivers now.
---
Resources





Formula 1 official website




W Series official website




ESPN F1




Shift + F1

 (great podcast and blog)


Chain Bear: Motorsports Explained 

(YouTube channel)