Discover more from Idée Fixe by Toni Cowan-Brown
A newsletter for the curious minds, and your weekly in-depth dive into the ideas that dominate our minds - both the delusional and the pedestrian. Each week I share insights on the ideas in tech, politics, pop culture and F1 that matter.
Over 1,000 subscribers
Idée fixe 3.1: eSports
Part one: The Incredible Growth of This Industry
Note: You are receiving this email because you subscribed to my weekly newsletter. I'm Toni Cowan-Brown and this is Idée Fixe - your weekly newsletter into the ideas and trends that matter and dominate our minds for a prolonged period.
In between the big trend pieces, you will receive Idée Fixe interlude which will cover the latest in tech, politics, and pop culture. Thank you for being here.
---
Idée Fixe #3: eSports 🏁🎮
This is my two-part guide to the eSports industry, and this is part one: The incredible Growth of This Industry. This first part will focus on the history and growth of eSports as an industry. In part two we will take a look at the unique ecosystem of eSports and its future, as well as the momentum eSports is having right now as it provides starved fans with an alternative.
As I write this newsletter, 🏎 W Series has just announced three new drivers to join the W series eSports league - a new league for female F1 drivers. And just yesterday, the fantasy sports startup Sleeper announced it has closed a Series B led by a16z as it expands to esports amid this pandemic.
🖐Heads up part one is roughly 900 words and will take you approximately 6 minutes to read.
---
Part One: 
The Incredible Growth of The eSports Industry
What you will learn from this segment:
The History of eSports

What Is eSports? Can it be considered a 'real sport'?

A Rapidly Growing Industry
---
The History of eSports
Doing a succinct introduction to this Global Phenomenon and billion-dollar industry is not going to be easy, but let's attempt it anyway. Firstly, the increasing popularity of eSports today has enabled this industry to become an unneglectable segment in this market, and it's having a radical growth moment. Actually, it's been having a moment for the past 10 years or so. But it's really having a moment this April of 2020.
"Esports and gaming have burst into the mainstream in recent years, transforming from a vibrant niche to a central form of entertainment around the world."
🎮 Evolution
First, we had arcade video gaming, back in the 1980s. Then, with the advancement in technology and the Internet, came the gaming world that we know today - one where interactive communication between players from all over the world can occur.
The first-ever online game tournament took place over forty years ago which marked the start of a trend that has since turned into a billion-dollar industry.
"The first video game tournament was held on October 19th, 1972. Competitors gathered at the Stanford Artificial Intelligence Lab in Los Altos, California to do battle in the sci-fi rocket combat game Spacewar." (Rolling Stone, 2016)
It's only later, in the 2010s, that eSports became the significant force that it is today in the video game industry. Which in turn has led to an increase in funding for tournaments and events. Live-streaming certainly helped with the growth and popularity of such tournaments.
🌍 Geography
It's a relatively new industry and still very much evolving, especially in markets such as Europe and North America which are both seeing fast adoption and growth.
That being said, the recognition and subsequent popularity of eSports first took place in Asia, specifically in China and South Korea. And Asia is still by far the most prominent geographic segment of the global eSports market, with over half of the world's frequent eSports viewers coming from Asia Pacific.
💬 Today's Definition of eSports
The term esports is short for 'electronic sports' and was introduced some years ago as a new way to describe competitive video gaming. It basically emcompasses this idea of people playing video games competitively and professionally.
More often than not, eSports today takes the form of organized, multiplayer video game competitions between professional players (individually or as teams).
While eSports is somewhat different from traditional team sports, there are some similarities. It also relies on things like teamwork and comradery, strong coordination and communication skills, hours and years of practice, strategies, and a cohesive team process. With the aim of creating a high-performing team, otherwise known as a winning team.
🏷 Classification as a Sport
As ever when there are large incumbents, and when innovation & technology is involved, there are numerous discussions about naming, recognition, competition, and market share. With eSports, it is no different, for years there have been controversial debates around the future recognition of eSports as a 'worldwide legitimate sporting activity'- i.e. a 'true sport'.
Some have argued that video games ought to be classified as a mind sport rather than an actual sport because they argue it lacks the physical effort a 'true sport' requires. Although, professional gamers will certainly disagree with this.
In 2003, China was one of the first to recognise eSport as a real sport. And then ten years later, in 2013, the Canadian League of Legends player Danny Le "Shiphtur" became the first pro gamer to receive an American P-1A visa, a category specifically for Internationally Recognized Athletes. He either had incredible lawyers or it's a sign that things are slowly changing.
---
A Rapidly Growing Industry
Nowadays, streaming services such as Twitch and YouTube and live events have turned these competitive gamers into serious stars (royalty even, for some). These professional gamers can sometimes bring home seven-figure earnings and huge brand endorsements, just like we have seen for years with 'true athletes'.
There is a misconception that it's easier to become a professional gamer earning seven-figures deals than it is to become a traditional athlete. This is not true - it is just as hard and it's just as competitive to get into that top 1%.
The eSports market has undoubtedly boomed in recent years and what's particularly exciting about this industry is how much growth potential still remains. An increasing number of viewers are tuning in daily to watch their favorite games being played worldwide. It's expected that the eSports audience could continue to outpace the growth of traditional (national and international) leagues.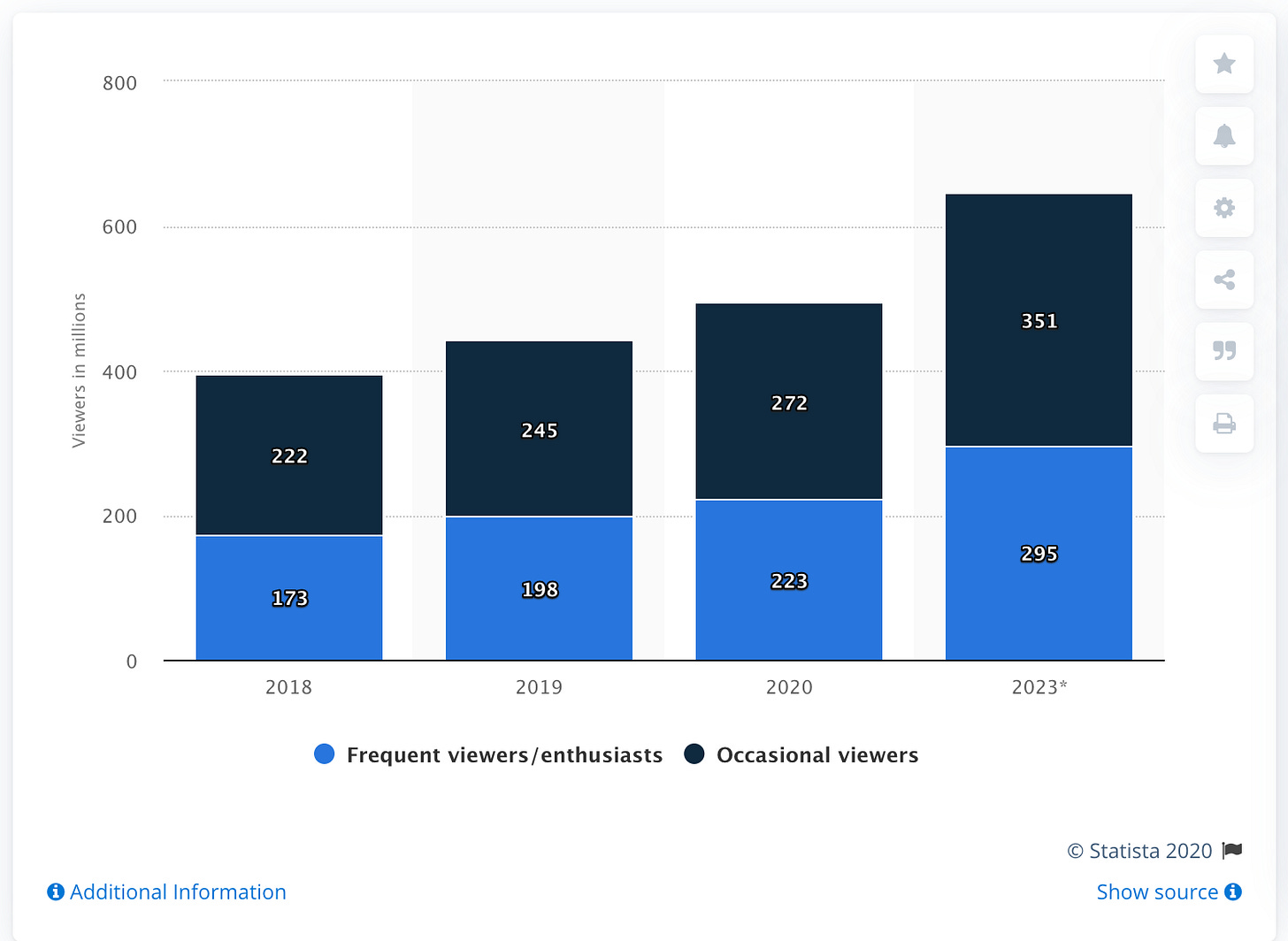 "By 2023, there are expected to be almost 300 million frequent viewers of eSports worldwide, a vast increase from the 173 million in 2018. Additionally, some 351 million people are forecast to be occasional viewers of eSports by 2023." (Statista, eSports audience size)
In order to keep eSports consumption growing, there is a need to continue to cultivate a symbiotic relationship between professional players and the esports industry that is sustainable and beneficial for both. As this is still a relatively new industry, it still feels a little like the wild west and there is plenty of room for improvement.
With that said, back in 2018, Goldman Sachs reported that the increasing levels of professionalism and organisational structure were both playing a significant role in growing esports revenues. And in 2018, we saw an industry in a state of unprecedented disruption.
Note: GS produced a good little visual debrief of their 2018 report on eSports that is worth checking out.
Next week, we will take a closer look at how COVID-19 might just have poured fuel on growth for eSports. With just about every sporting event put on hold and everyone stuck at home for over two months, there certainly has been a big void in need of being filled.
To give you a sense of the impact COVID-19 has had; according to the Morning Brew, 350 million registered Fortnite players logged 3.2 billion hours last month (March 2020); StreamElements, in partnership with Arsenal.gg, has released its monthly State of the Stream and it reports that "the ongoing COVID-19 pandemic has impacted the streaming landscape in a big way as people turn to the medium as a primary form of entertainment during quarantine orders". According to the data, the number of hours watched in April 2020 hit nearly 4 trillion, which is 45% higher than in March.
---
🚀Follow me on 

Instagram

 and 

Twitter

 for extras that don't make the newsletter.

---
Resources

📺 Documentaries
7 Days Out - League of Legends

 (Netflix)

📊 

Statistics


Statista - 

eSports audience size worldwide




Report: COVID-19 spurns 45% growth in livestreaming viewership

 (GameDaily, 2020)


eSports: from wildwest to mainstream

 (Goldman Sachs, 2018)

🗞 

Articles
Understanding eSports Communities and Their Relevance in 2019

 (Influencer Marketing Hub, 2019)


What is eSports? A look at an explosive billion-dollar industry

 (CNN, 2018)


An introduction to the eSports ecosystem

 (The eSports Observer)


Fortnite Adds 100 Million Players in One Year

 (Morning Brew, 2020)